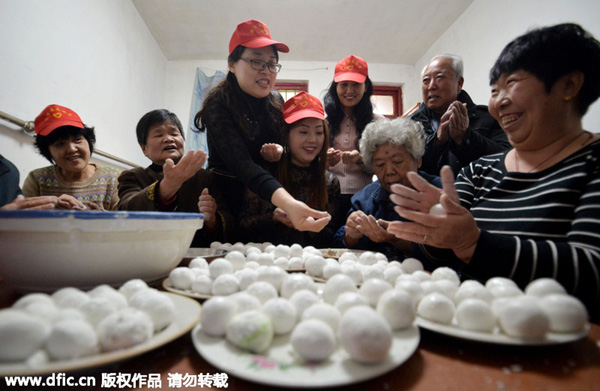 Volunteers and empty-nest seniors make Yuan Xiao, a typical food for Lantern Festival, in Handan, Hebei province, March 3, 2015. [Photo/IC]
When officials and think tank researchers talk about reform in China, they often mean the introduction of new economic policies.
But issues such as GDP or the amount spent on social financing are not usually topics for everyday conversation on the streets. For the public, the more important reforms are those covering other social aspects and ultimately the governance of Chinese society.
Since the new leadership was formed from 2012 to 2013, it has made a series of major efforts to promote social justice and fairness, and to bring to the public a greater sense of "earning and sharing" amid progress on reforms.
Two general tasks have been set for the next five years-China doubling its GDP level and its national income by 2020 from levels in 2010.
Efforts have also been made on social development, including attempts to tackle the income gap between rich and poor, and moves to increase public goods and services for a rapidly increasing and rapidly aging urban population.
Key statements on development
The population above 60 years of age in 2012 was 194 million. It will reach 243 million in 2020 and 300 million in 2025. The government should meet the increasing demands of senior citizens, speeding development of the nursing industry in particular. This is an urgent task to not only protect their rights and interests, but also to promote consumer spending and to create jobs.
-State Council, Sept 13, 2013
All residents who qualify can buy pension insurance on a voluntary basis. The insurance fund should consist of personal payments, subsidies from village collectives and from the government.
-State Council, Feb 26, 2014
The government should concentrate limited resources on really needy poverty-stricken families and help them to find sustainable ways to increase their income according to their situation, and include them in the basic public service net.
-State Council, May 12, 2014
About 100 million farmers should become permanent residents in cities by 2020.
-State Council, July 24, 2014
The government should use all possible means and institutions to help private enterprises, social organizations and individuals help with poverty alleviation.
-State Council, Dec 4, 2014
The 40 million children living in poverty-stricken regions should enjoy the national average level of education and healthcare services by 2020.
-State Council, Dec 25, 2014
The government should expand effective supplies through targeted poverty alleviation, innovation in technology and financial services, the development of modern agriculture, recruitment of high-level professionals, and farm infrastructure construction.
-Central Economic Work Conference, Dec 21, 2015