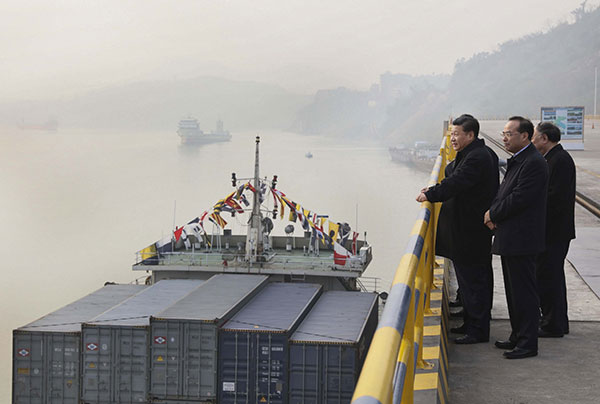 President Xi Jinping inspects Guoyuan Port in the Liangjiang New Area of Southwest China's Chongqing on Monday, his first workday of the new year. Xinhua
President Xi Jinping made his first visit to the southwestern city of Chongqing on Monday since he took office as China's top leader.
The trip, whose many details were yet to be fully disclosed by official media, is widely watched because Chongqing, one of the four municipalities directly overseen by the central government, was once clouded by the corruption scandal of its former Party chief, Bo Xilai, now serving a life sentence.
But the presidential visit on the first workday of 2016 was also seen by the domestic media as highlighting Xi's high expectations for the municipality, which has the largest population of all Chinese cities, and its role in leading changes in the upper reaches of the Yangtze River and China's vast hinterlands.
Connectivity and cutting-edge technology were the focus of Xi's visit to the city, the starting point of the trans-Eurasia Chongqing-Xinjiang-Europe international railway route, according to Xinhua News Agency.
While inspecting Guoyuan Port on Monday afternoon, Xi praised the project when he was told that countries along the rail route have all subscribed to the practice of "one check for customs clearance".
The port, a comprehensive transportation hub that accommodates railways, highways and waterways, is home to 16 ship berths that can handle vessels of 5,000 dead weight tonnage.
"This is full of promise," Xi said when he saw the port's various facilities.
At Chongqing BOE Optoelectronic Technology Co, a branch of China's display manufacturing giant BOE, Xi examined flexible screens and ultrahigh-definition displays.
Xi said "top priority should be placed on innovation", an area in which he said he expected to see major progress.
Chongqing has a population of around 30 million, and its GDP in 2014 hit 1.42 trillion yuan ($217.6 billion).
Ding Yifan, a senior researcher at the State Council's Development Research Center, said Xi's inspection of traffic and innovation "has actually underlined some priority tasks for the economy and reforms for the whole year".
Contact the writers through zhangyunbi@chinadaily.com.cn