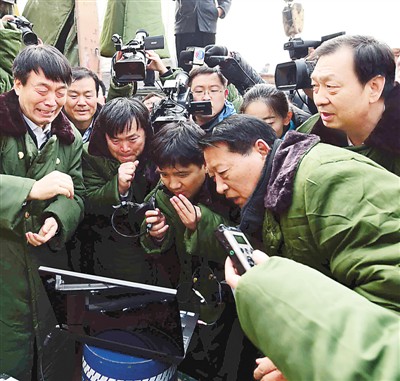 Rescuers make contact with miners who are trapped underground following the collapse of a gypsum mine in east China's Shandong Province. [Photo/people.com.cn]
Rescuers hoping to reach a group of miners who have been trapped underground for over a week in Shandong say they're making progress toward reaching four of them.
However, drilling has been slowed amid concerns about possible flooding.
A hole large enough to extract the trapped miners is around 200-meters deep.
However, crews say they've been working on the last few meters very slowly to ensure the area the group of four miners is located in doesn't become flooded.
Du Bingjian is with the National Mine Emergency Rescue center.
"We've stop drilling the remaining 20 meters until a bigger hole is completed. We've also created a borehole in case of cave-ins and for water seepage. When the bigger hole is completed, we can put down a rescue capsule to gather the trapped miners at the bottom of the hole."
Seventeen miners remain trapped underground following the collapse of gypsum mine on the outskirts of the city of Linyi in Shandong on Christmas Day.
The group of 4 miners the crews are attempting to reach are located in a different area than the remaining 13, who crews have yet to be in contact with.
The four they're digging for are said to be in stable condition.