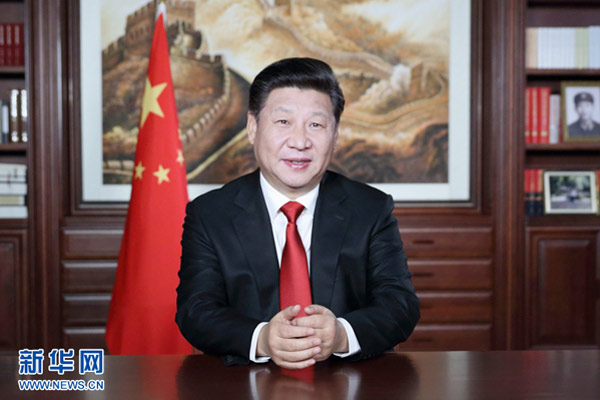 President Xi Jinping delivers his New Year speech in Beijing on Thursday. [Photo/Xinhua]
President Xi Jinping looked forward to 2016 in a speech that called for confidence and hard work for a good beginning in the home stretch of building a "well-off society in an all-round way".
In his New Year speech, Xi said that a Party meeting in late October set out a promising and encouraging blueprint for development over the next five years.
Xi added that lifting tens of millions of rural people out of poverty was his top concern, and called for joint efforts to achieve this goal.
"We should care for all people facing difficulties ... making them feel warm from the bottom of their hearts," Xi said.
China must not be absent from international affairs, Xi said in the speech, as the world is looking forward to voices and answers from China. "The world is so big, the challenges so complicated," he said.
"For those people torn by hardship and war, we need to offer not only sympathy and compassion, but also responsibility and action," he said.
"China will always welcome the world with an open embrace, and we will also extend our hand to those in difficulty as best as we can, and our 'circle of friends' will grow," Xi said, borrowing a term from the popular messaging app WeChat.
Throughout 2015, Xi said, China's leaders have taken an active part in international conferences and diplomatic activity, bringing substantial progress in the Belt and Road Initiative, while contributing to the United Nations 2030 agenda for sustainable development and the global fight against climate change.
He said: "We have only one Earth, one home for the peoples of all nations."
Xi expressed his earnest hope that the international community could work together for peace, in a spirit of cooperation. "By turning antagonism to synergy, hostility to friendship, together we will forge a community of shared destiny for all humankind," the president said.
Xi called on every Chinese person to take responsibility during the "sprint" to build a moderately prosperous society in all respects by 2020.