When a red alert, the highest-level warning, is issued for smog in northern China, vehicle traffic is cut by half, factories are ordered to suspend production and schools close. Zheng Jinran and Zhang Yu visited Baoding, a city in Hebei province, whose 11 million-plus residents have been living under a month-long red alert for smog.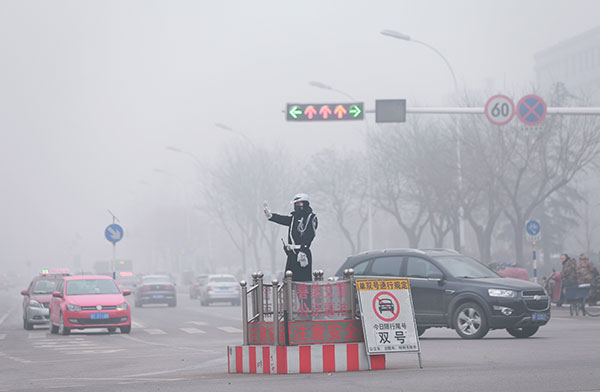 A police traffic officer wears a mask at a crossroads in Baoding, Hebei province, on Dec 25. Lingering smog prompted local authorities to launch a month-long pollution red alert in the city. ZOU HONG/CHINA DAILY
On Christmas Eve, Liu Hao bought a larger-than-usual amount of stock for his roadside store, not because business is booming as New Year approaches, but as a result of license plate restrictions on the use of vehicles that mean he is only able to visit the warehouse on alternate weekdays.
For the past month, Liu has only been allowed to use his small van two or three days per week, one of a series of measures imposed by the government of Baoding, Hebei province.
Since November, thick, potentially injurious smog, has frequently blanketed cities in North and Central China, sparking a rash of red alerts that have seen cities limit industrial production and vehicle use for several days at a time.
Residents seem happy to accept the temporary inconvenience for better air quality.
However, unlike the red alerts issued in Beijing and other cities in Hebei, Baoding has extended the hard-hitting restrictions for the whole of December, "to improve air quality and protect public health, to better reduce the frequent severe smog in winter caused by soaring coal consumption and to lift the city from bottom place in the national air quality rankings", according to a document released by the local authorities.
Moreover, the restrictions imposed in the city are far tougher than those in place during red alerts in Beijing.
Baoding has suspended production at 2,045 large companies in heavily polluting industries, ranging from coal- and gas-fired plants with excessive emissions levels, to mining and aggregate extraction and processing. Even the thermal power plants that provide the city's heating are subject to the restrictions.
In addition, 562 construction sites, which generate large amounts of dust, were ordered to suspend their work for the month.
"Although my son's primary school is still open to students, all outdoor exercise has been suspended," Liu, the shop owner, said.
"I can't remember exactly how many days the smog has persisted," he added.
Retiree Zhang Jun said he hasn't seen a clear improvement in air quality in the month since the tough restrictions were implemented. "It will be hard for younger people to live a long life, given the severe pollution," the 81-year-old said.
In the past two weeks, the city has seen 10 polluted days in succession, when the air quality index regularly topped 100, with a peak reading of 485-the most hazardous level-on Dec 25, according to data from the China National Environmental Monitoring Center.
Baoding, which last year was listed last in air quality rankings for 74 major cities, had set a goal of lifting itself off the lowest rung of the ladder when this year's ranking is published sometime in January. That goal is now unlikely to be achieved.
"We had narrowed the gap between us and the second-last city, and air quality had improved, but the lingering smog in December has dragged us down again," said Wang Jinfu, deputy head of the Baoding Environmental Protection Bureau, who admitted that the city is now likely to remain at the bottom of the rankings.