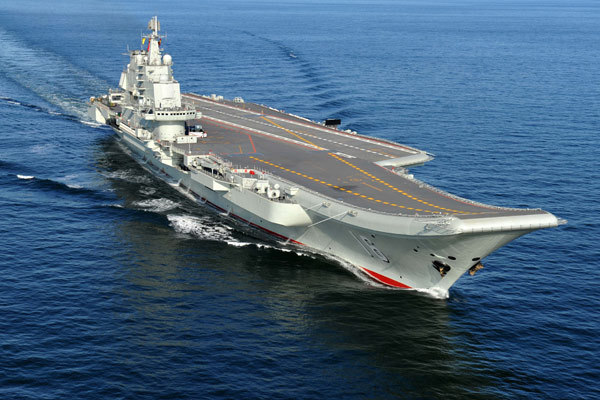 An undated file photo shows China's first aircraft carrierLiaoning. [Photo for chinadaily.com.cn]


New vessel, fully designed in China, will help protect strategic maritime interests
China is building its second aircraft carrier in the coastal city of Dalian, Liaoning province, the Ministry of National Defense confirmed on Thursday.
Defense observers have long expected that the second carrier was on the way after China's first aircraft carrier the Liaoning-developed from a vessel sold by Ukraine-was delivered and commissioned to the People's Liberation Army in September 2012.
The second carrier, fully based on China's own independent design, will have a displacement of 50,000 tons, a conventional power plant, and will carry domestically developed J-15 fighter jets and other ship-borne aircraft, ministry spokesman Yang Yujun told a news conference in Beijing.
According to Yang, the design of the second aircraft carrier has drawn on the lessons and experience gleaned from the scientific tests and training conducted on the Liaoning, and will see improvements in various aspects.
Yang said fixed-wing aircraft on the second carrier will also use a "ski-jump" ramp to take off.
Yin Zhuo, director of the Expert Consultation Committee of the People's Liberation Army Navy, said the decision to build a second carrier was only natural because China is a major maritime country and a permanent member of the United Nations Security Council.
As China's maritime interests expand, they must also be protected, he said.
"China also needs to make a greater contribution to the peace and stability of the world and the region. Owning aircraft carriers is a choice made to contribute more to maintaining world peace," Yin said.
Yin estimated that China's naval forces, in addition to the two carriers, will further develop to better address the country's needs.
The ministry spokesman reiterated China's defensive national defense policy and noted that the country has a long coastline and administers vast waters.
"To safeguard maritime security, sovereignty and interests and rights, is the sacred mission of the Chinese armed forces," Yang said.
New defense hotlines
In another development, the ministry launched direct hotlines with counterparts in Vietnam and in South Korea on Thursday morning, the spokesman announced.
State Councilor and Minister of National Defense Chang Wanquan held the first phone talk via the new hotline with Vietnamese Defense Minister Phung Quang Thanh.
Chang noted that the two-way relationship has "showcased plausible momentum in 2015".
China is willing to work with Vietnam to "translate high-level consensus into concrete outcomes and properly tackle differences" and see progress in ties between the two militaries, Chang said.
Su Xiaohui, a researcher in international strategies at the China Institute of International Studies, said a timely exchange of views between Beijing and Hanoi over major issues is of crucial importance for trust building.
"The bigger picture of the ties cannot be derailed by the divergences," Su said.