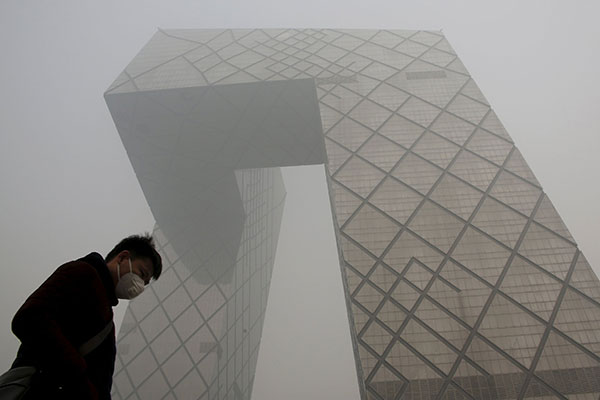 Smog shrouds the China Central Television building in Beijing on Monday, when severe air quality prompted the capital to order polluting industries to suspend production. [Photo/Agencies]
BEIJING - China's weather observatory upgraded its fog alert from yellow to orange, second most serious level, for Saturday evening to Sunday morning.
Fog will be thickest in Hebei, Shandong and Henan with visibility less than 200 meters, according to the National Meteorological Center.
Visibility will be less than 500 meters in Beijing, Tianjin, Jiangsu, Anhui, Hubei and Hunan.
Snow will disperse smog on Monday and Tuesday, while rain will sweep some parts in southern China.
The public has been warned to take protective measures when engaging in outdoor activities, and those who suffer from respiratory diseases are advised to stay indoors.
A bunch of Chinese cities have issued warnings for haze
A new series of smog alerts have been issued in parts of northern China.
Here in Beijing, a yellow-alert is now in effect, with visibility down to 500-meters.
In Xi'an and Tianjin, orange-alerts are now in-place.
PM2.5 readings in Tianjin have hit 482 this Sunday.
The province of Shaanxi is coping with readings averaging around 200.
Provincial Meteorological chief Liu Yong says the topography of Shaanxi isn't helping.
"The temperature is relatively low in the autumn and winter. The winds are also weaker, making it more difficult for the haze to blow off. The Guanzhong plain is also a basin, which is hemmed in by mountain ranges on three sides. This makes it even tougher for the winds to blow in."
The National Meteorological Center is forecasting snow should help weaken or clear the smog in parts of north China on Monday and Tuesday.
Coal-fired power generation in northern China is being blamed for much of the adverse conditions which have been gripping northern China for the past few weeks.
Beijing has been through two separate red-alerts for smog, as have a number of cities in neighboring Hebei.