As the annual sessions of the top legislative body and political advisory body continue, China Daily collected questions on issues that netizens care most about and solicited answers from political advisers, legislators and senior government officials.
The question
First, I love living in Beijing, but am severely affected by the pollution. What measures are the government taking to control this, and when will we have access to clean air?
A netizen who goes by the name "Kesang T.Ukyab"
The answer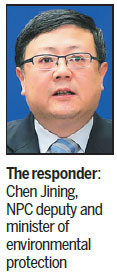 China has taken a series of measures to control air pollution. Since 2013, the central government has issued the Action Plan on Air Pollution Prevention and Control, launching a national campaign against smog.
In addition to this, laws and regulations have also been improved to provide a strong legal backing. The revised Environmental Protection Law, which took effect on Jan 1, 2015, is regarded as the strictest version of the law and features tough punishments including fines issued on a daily basis to polluters. Many supplementary regulations have also been issued to facilitate the law's implementation.
The Law on the Prevention and Control of Atmospheric Pollution, another powerful tool to control smog, came into force at the beginning of this year.
In order to fully implement the stronger laws and regulations, environmental authorities at the provincial and city level have strengthened their inspection teams and improved their monitoring networks.
In December, Beijing, Tianjin and Hebei province experienced severe smog with alarming air pollution readings that required joint regional efforts to curb them.
Thus, these three will build a unified emergency response system against air pollution, which will allow cities to take coordinated action in reducing air pollutants emission.
Coal consumption for winter heating has been a common reason for smog in the region. Therefore, this consumption needs to be reduced and the use of clean energy such as electricity and natural gas increased.