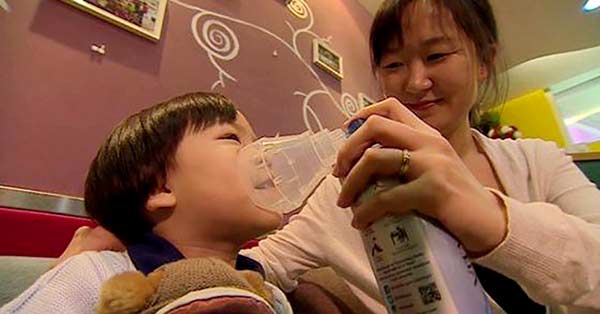 In this TV screen grab from BBC, Beijing resident Li Tianqin tries to get her son refreshed with a canister of Vitality Air's fresh air. CHINA DAILY
Santa's gift bag full of air is no longer a joke, as a Canadian company that sells crisp, canned air from the Rocky Mountains has cashed in on China's air pollution.
Just two months after arriving in China, Vitality Air's first 500 canisters were sold out. The next pre-ordered 4,000 canisters are expected to be delivered to the country in two weeks, said Catherine Qi, marketing director of Vitality Air China.
Vitality Air said its products are sold primarily to high-end clubs, nightclubs and international schools in China.
The air is harvested from the Rocky Mountains and is available in two varieties-Banff and Lake Louise. The price is 129 yuan ($19.95) per canister, Qi told China Daily.
"Our products sell not only in China, but also other places including the Middle East and India," she said.
The product originated with a practical joke in which Vitality Air founder Moses Lam put a plastic bag of fresh air on eBay with a price tag of 99 US cents.
It sold quickly. The next bag of fresh air was auctioned at $168 and also was sold. Then Lam realized the demand for quality, convenient and fresh air by people who have stayed indoors for a long time.
Each canister of 7.7 liters will supply 150 doses. The product is available at Taobao, an online marketplace run by Alibaba Group Holding, and at Vitality Air's website, said Qi.
Zhang Naxin, a respiratory physician in Tianjin, told Daily News that 150 doses of Canadian air won't make much of a difference.
"A person breathes 20 times on average per minute, and one bottle would last for less than eight minutes."
Tina Wang, a manager at a logistics company in China, said she was intrigued by the product.
"I've had the flu this week, and the bad air here doesn't help me get better. This bottle of fresh air is just what I need," said Wang, who added that she thought the price was too high.