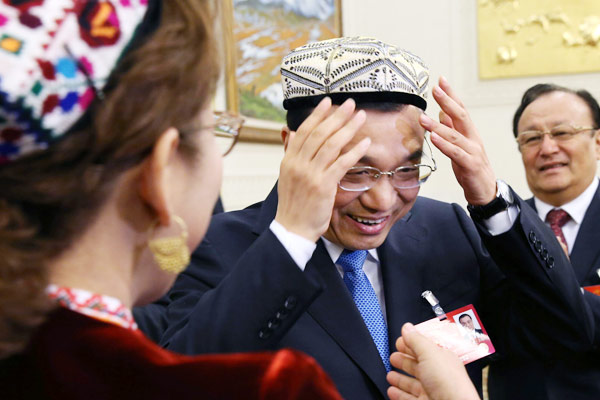 Premier Li Keqiang tries an ethnic Uygur-style skullcap presented by NPC deputy Gulnur Memet (left) when Li attended a panel discussion between deputies from Xinjiang Uygur autonomous region in Beijing on Thursday.[Photo by Wu Zhiyi/China Daily]
Premier reaffirms more backing for the region's infrastructure building
The central government has vowed to give more support to the Xinjiang Uygur autonomous region, as infrastructure construction there plays a vital role in national security and local development.
Premier Li Keqiang reaffirmed the additional support on Thursday during a meeting with deputies from Xinjiang to the annual session of the National People's Congress.
More policy support from the central government for infrastructure construction work in Xinjiang was the most commonly raised request by deputies during the two-hour, closed-door meeting with the premier.
Such requests included more support for building railways connecting southern Xinjiang to more regions around the country, building more electricity programs, and setting up a special fund to support Xinjiang in new types of enterprise.
Wu Gang, head of the New Energy Group of Xinjiang, said the region needs more funds from the central government as most State-owned enterprises there are short of capital and need more funding to support the nurturing of small environmentally friendly enterprises.
Such companies have been called for during China's economic transition.
Xinjiang achieved annual GDP growth of 8.8 percent last year, compared with the national figure of 6.9 percent. It is aiming for 7 percent growth this year.
The service sector still comprises less than half of the local economy, while 50.5 percent of national GDP growth was contributed by the sector last year.
The premier praised Xinjiang's stable economic performance last year.
He said that as the region has long relied on heavy industries and resources that rely on industries, such as oil-related ones, it is "quite something" that the region can maintain stable growth while the country is undergoing an economic transition.
He promised that more policy support will be given to Xinjiang in the next five years to maintain a good transportation system, water conservation projects and electricity programs, as regional development has high significance in maintaining national security.
While placing a heavy emphasis on infrastructure building, Li stressed that maintaining a stable, safe and harmonious society is the premise for economic development in Xinjiang-China's largest provincial-level region by land area and the most ethnically diversified.
Xinjiang is home to 47 ethnic groups and more than 23 million people from such groups.
Gulnur Memet, a Xinjiang deputy who joined Thursday's discussion with the premier, met him six years ago when Li last visited the region in 2010.
As a teacher, she said she feels that support from the central government is vital to many key sectors in Xinjiang.