The number of Roman Catholics in China's larger cities is surging, but plans to train more priests are being derailed by a lack of applicants for seminaries, as Xu Wei reports.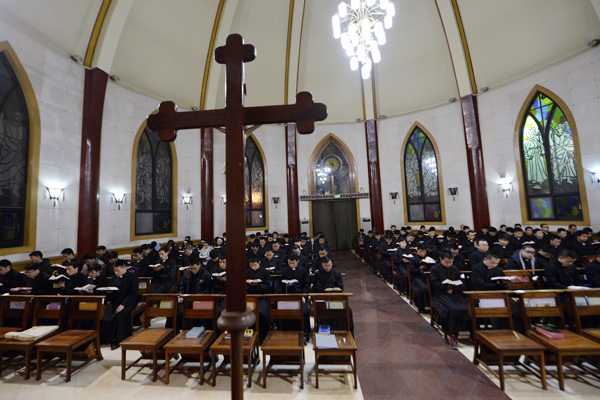 Seminarians read the Bible during evening prayers at the National Seminary of the Catholic Church in Beijing.[Photo by Wei Xiaohao/China Daily]
When Zou Yunlong decided to enter a seminary and train as a priest, he was fully aware of the price he would have to pay: No wife, no children, living-and possibly dying-alone, and being ready to serve his parishioners at any hour of the day for his entire life.
"It's a process of constant self-reflection to see if I am fit for the priesthood," Zou said, referring to his life as a seminarian. "Even today, my family is still trying to change my mind. But I am as committed as ever," said the 32-year-old student at the National Seminary of the Catholic Church in Beijing.
When he completes his studies, Zou will be assigned to a church in Guizhou province, but a shortage of priests means he will have to travel frequently between different parishes to provide religious services.
Statistics provided by the Bishops Conference of the Catholic Church in China show that the country's 6 million-plus Catholics are served by 3,316 priests, plus 5,622 nuns from 106 orders.
In recent years, the number of Catholic worshippers in China has risen steadily. In response, the national seminary and six other establishments across the country have been charged with widening the talent pool for the priesthood.
The problem is a lack of applicants. In 2010, Zou was one of 22 new trainee priests enrolled at the national seminary, but this year the number of new recruits has fallen to just four. Moreover, there are only 556 trainee priests at the nation's 10 major seminaries, so boosting applicant numbers is a high priority for Bishop John Baptist Yang Xiaoting, the seminary's newly inaugurated president.
Yang said the main factors responsible for the decline in applications are the challenges posed by a secular society and the recently relaxed family planning policy, which has resulted in a large number of families with just one child.
He said every student displays an extraordinary amount of courage when they enter a seminary: "This is especially true in China, when many new students are their parents' only child, and there is an overwhelming expectation that one's child will continue the family line."
The shortage of priests is so severe in some dioceses that one priest serves more than 5,000 parishioners. "The solution, I believe, lies in the elevation of lay people because our trainees mainly come from lay families," said Yang, who is also vice-president of the Bishops Conference of the Catholic Church in China.
A difficult choice
In 2008, when seminarian Zou first investigated Christianity, he thought he would identify contradictions that would help him to discredit the doctrine. "I was curious to know why so many people had chosen to believe in this religion, but I needed to know about it before I could debunk it," he said.
However, as he learned more about the church, he became fascinated. "I discovered that it is a belief rather than a superstition, and there is a reason it has been around for thousands of years," he said.
The toughest part of entering the priesthood involves coming to terms with the fact that you will never father children, he said. "It also means your parents will lose the person they should rely on in the future," he said, adding that even the most devout Catholic families raise objections when they learn that their only child has opted to join the priesthood.
The challenges are constant because joining the clergy means life is spent resisting worldly temptations, especially money and sex. "Human flesh is vulnerable, and we are human beings, after all," he said.
Zou estimated that at least 10 percent of his peers have abandoned their dreams of entering the priesthood and have left the seminary, and in recent years, several ordained priests in his diocese have also left the clergy, mainly because of parental and family pressures.
"That's why it takes six years of training at the seminary and at least one year as an intern in a diocese before one can be ordained. You need to be absolutely sure you are ready to go down that road," he said.