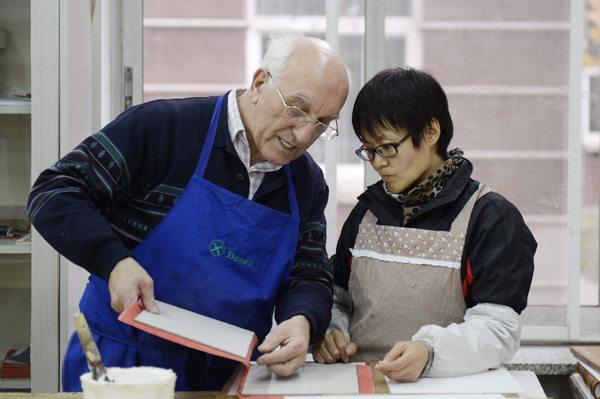 Friedbert Ewertz, a monk from Germany, demonstrates how to bind gospel books.[Photo by Wei Xiaohao/China Daily]
Seminarians have their own ways of resisting temptation. "The best way is to stay close to God, to make the relationship as close as possible. Also, living as part of a group is helpful," he said.
Staying fully focused can also help. "Put all your time and energy into your work so there will be no time for other thoughts. And stay away from novels and TV programs," he said.
Localized training
At the entrance of the seminary's teaching building, a large photo of Pope Francis watches over the students entering and leaving the classrooms.
Yang said maintaining the high standard of training at the seminary will be crucial to ensure success. "We need to make sure we are offering training that matches international standards," he said.
One of the solutions has been to raise the number of permanent lecturers from overseas. The seminary has more than 20 foreign guest professors who provide voluntary teaching services every year, and almost half of the permanent faculty members obtained doctorates overseas.
Since its foundation in 1983, the seminary has produced 330 priests, eight of whom have become bishops. The latest is Joseph Zhang Yinlin, coadjutor bishop of Anyang diocese in Henan province, whose appointment in August was recognized by both the Chinese government and the Vatican.
"We need to keep in mind that we should try to localize our training methods. We have a different political system and a different culture in China and those facts will inevitably be reflected at our seminary," he said. "However, the foundations of the faith will never change, and neither will our constancy with Catholicism."
Zou said some of the courses have proved too difficult for some of the students, many of whom have only been educated to high school level.
As a graduate of Guizhou Minzu University, Zou is one of the few students in his class with a college education, but even he has struggled. "I completely gave up on English and Latin. They are too difficult for me. I tell myself that it's okay because I have no plans to go abroad. I will be content to stay in my diocese and work as a priest," he said, although he acknowledged that he will have to master basic Latin to recite the Mass.
Other courses, such as philosophy and theology, have also proved difficult because the textbooks have mostly been translated from Western theological works, and the terminologies are difficult to grasp, he said.
Compared with a college education, the courses at the seminary are far less systematic, he said. "At college, we were allowed to learn step by step. But here, a course that was originally planned for a whole semester has to be completed within one month because the guest lecturers only stay for a very short time," he said.
Also, his time has to be split between solitary reflection and life within the group. "The spiritual life of the group is important because it enables you to develop your mind and accept a priestly lifestyle," he said.