In today's trending, police stop a Lamborghini transporting a giant teddy bear, man chills out on beanbag chair in subway, and an outdoor elevator in Shanxi breaks three world records.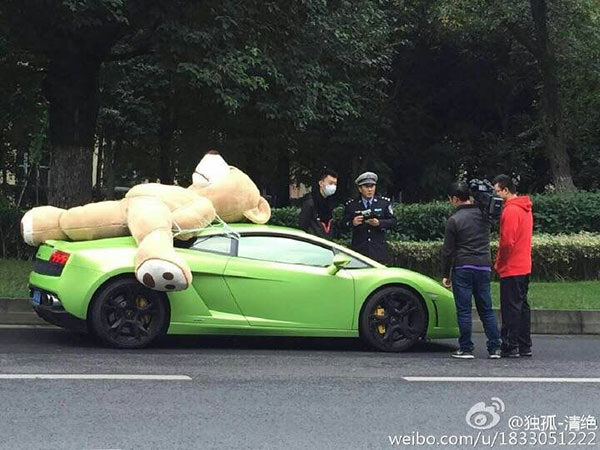 Tan stopped the luxury car carrying the giant toy. [Photo/Sina Weibo]
Giant stuffed bear 'kidnapped' by Lamborghini
When a lime green Lamborghini was stopped by the police for driving with an oversized teddy bear strapped to its roof, photos of the absurd sight went viral online. The incident took place in Chengdu, capital of Sichuan province, blocking traffic when it occurred, newssc.org reported on Wednesday.
The police officer who stopped the young driver was Tan Qiao, who is also the host of a traffic-related program produced by the local traffic management bureau.
"The toy bear blocked the rear window of the car, which made it impossible for the driver to see what was happening behind the car. It could have also caused an accident if it slipped off the car," Tan said. Although the car was not travelling fast, Tan still stopped it, the report said.
The driver said the bear was a gift for his girlfriend. The giant bear, which stands at two meters tall, was too big to be stuffed inside the luxury sports car and had to be strapped to the roof of it.