Beijing announces decision to restrict trade with Pyongyang
Beijing has banned imports of iron ore from Pyongyang as well as exports of jet fuel and other oil products used to make rocket fuel, outlining China's restriction on trade with the country on Tuesday.
The Ministry of Commerce published a list on its website, saying it also would ban imports of gold and rare-earth elements from the Democratic People's Republic of Korea in line with new UN sanctions.
The majority of the DPRK's exports to China are minerals, and its exports to China account for about 90 percent of the country's total export volume, according to Lyu Chao, a researcher at the Liaoning Academy of Social Sciences.
However, China exempted imports of coal intended for "the people's well-being" and not connected to nuclear or missile programs.
Export bans on jet and rocket fuel included exceptions for "basic humanitarian needs", including civilian passenger planes flying outside the DPRK.
Other restricted minerals include vanadium and titanium, both used in steel alloys.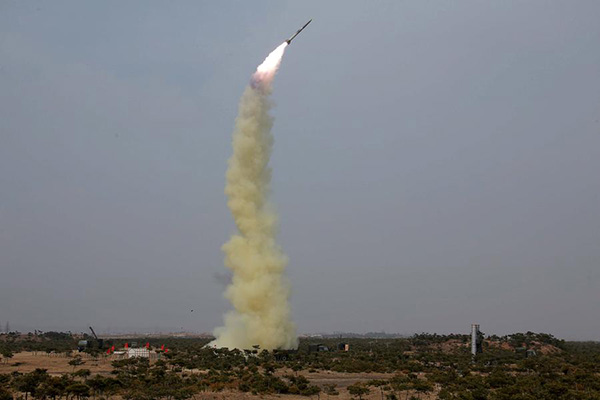 A new type of anti-air guided weapon system is fired in this undated photo released by DPRK's Korean Central News Agency (KCNA) on April 2, 2016. [Photo/Agencies]
The UN Security Council unanimously passed a resolution in early March expanding UN sanctions following the DPRK's nuclear test on Jan 6 and subsequent rocket launch.
China's embargo statement, an implementation of the harshest sanction the international community has adopted against the DPRK, shows that Beijing is strictly honoring the resolution of the UN Security Council, said Shi Yongming, a researcher of the China Institute of International Studies.
However, the international community must seek a way for peaceful resolution of the Korean Peninsula nuclear issue, Shi said.
The way to truly resolve the issue is through political dialogue, he said.
"The sanctions are intended to urge the DPRK to come back to the negotiating table. The sanctions themselves cannot be deemed as a purpose," he said, adding that without political dialogue, the sanctions "will surely fail".
Wang Junsheng, a researcher of the National Institute of International Strategy of the Chinese Academy of Social Sciences, said it is not the first time China has issued such a statement in implementing UN sanctions against Pyongyang.
In 2013, several governmental departments, including the Ministry of Commerce and the Ministry of Transport, issued notices to implement a UN Security Council resolution in response to a DPRK nuclear test in February that year.
Wang said this year's embargo list, in which the exceptions are listed, shows that China is fully implementing UN Security Council Resolution 2270 while considering the DPRK's humanitarian concerns.
Liu Ce in Shenyang and Reuters contributed to this story.
Contact the writer at wangqingyun@chinadaily.com.cn