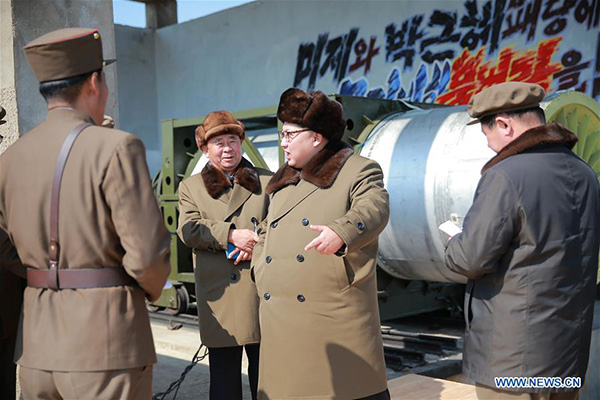 Photo provided by Korean Central News Agency (KCNA) on March 24, 2016 shows the top leader of the Democratic People's Republic of Korea (DPRK) Kim Jong-un guiding a ground test for heavy-lift, solid-fuel rocket engine and its separation. [Photo/Xinhua]
PYONGYANG - The Democratic People's Republic of Korea (DPRK) has test-fired "new-type anti-air guided rockets" under the observation of its top leader Kim Jong-un, the country's official KCNA news agency reported Saturday.
The rockets accurately hit the aerial targets of the simulated enemy, the KCNA said without specifying when and where the test was carried out.
Kim was satisfied with the test, saying it demonstrated the DPRK's rapidly growing defense capability.
The DPRK on Friday fired a ground-to-air missile into its eastern waters, according to South Korea's Joint Chiefs of Staff (JCS). The launch came just three days after Pyongyang fired a rocket in northeastern direction.
Pyongyang's frequent projectile launches in recent weeks are said to protest the ongoing US-South Korea joint military exercises and newly-adopted international sanctions on the DPRK.
In early March, UN Security Council adopted tougher-than-ever sanctions on Pyongyang over its fourth nuclear test on Jan 6.
On March 7, South Korea and the United States kicked off their joint annual war games "Key Resolve" and "Foal Eagle." The "Key Resolve" exercise ended last month, but the "Foal Eagle" field training exercise is scheduled to last till April 30.