DPRK fires ground-to-air missile into eastern waters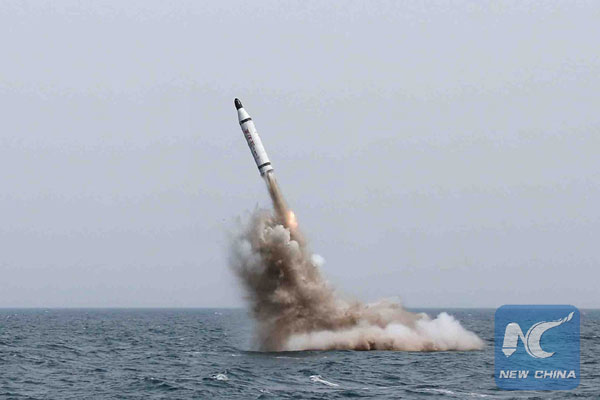 File photo provided by Korean Central News Agency (KCNA) on May 9, 2015 shows the test-firing of a strategic ballistic missile in the DPRK. [Photo/Xinhua]
SEOUL - The Democratic People's Republic of Korea (DPRK) on Friday fired off a ground-to-air missile into eastern waters, South Korea's Joint Chiefs of Staff (JCS) said.
The short-range missile, which flew about 100 km, was launched at around 12:45 pm local time (0345 GMT) from the eastern region near the coast of Seondeok in South Hamgyeong province.
The launch came just three days after Pyongyang fired one round of its new 300-mm multiple rocket launcher in northeastern direction.
With projectile launches in recent weeks, Pyongyang has shown its protest against the ongoing US-South Korea joint military exercises and newly-adopted international sanctions on the DPRK.
South Korean President Park Geun-hye, who attended the two-day nuclear security summit in Washington, reiterated her position on Thursday of focusing on sanctions, rather than dialogue, to make the DPRK abandon its nuclear program.
The DPRK started off a new year by detonating what it claimed was its hydrogen bomb on Jan 6, the fourth of its nuclear tests, followed by the launch of a long-range rocket, which was condemned as a disguised test of ballistic missile technology, on Feb 7.
UN Security Council unanimously adopted tougher-than-ever sanctions on Pyongyang on March 2, and South Korea introduced its standalone restrictions on its northern neighbor such as a ban on foreign ships staying at the DPRK ports from entering the South Korean territory.
Annually-held spring war games between Seoul and Washington kicked off on March 7. The Key Resolve command post exercise ended 12 days later, but the Foal Eagle field training exercise would last until later this month.
Pyongyang has denounced the US-South Korea military exercises as a dress rehearsal for northward invasion.