Inspiring Women China launches volunteer network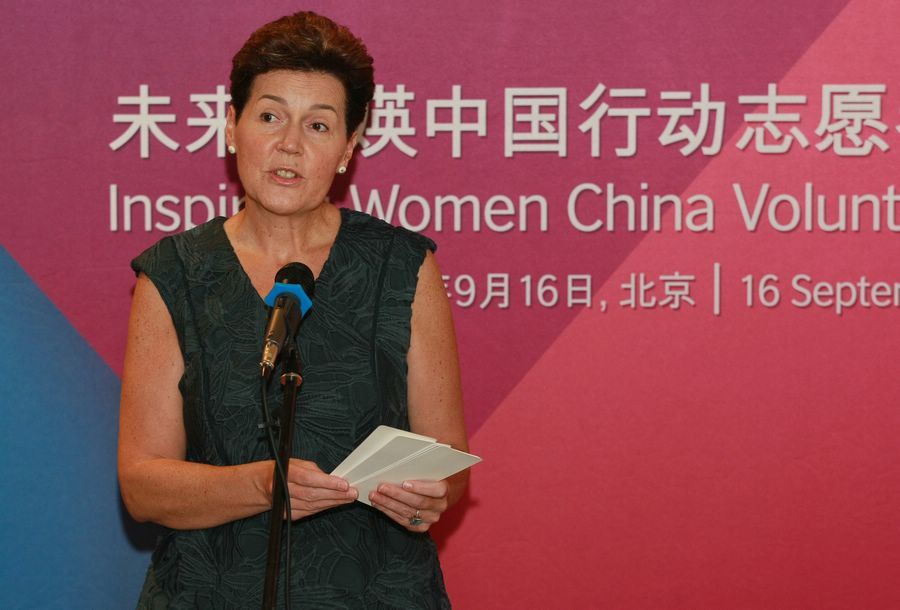 Carma Elliot, County Director of the British Council in China and Minister (Culture and Education) at the British Embassy, delivers a keynote speech at the Inspiring Women China Volunteer Network Launch in Beijing, Sept 16, 2017. [Photo by Yu Jie/For chinadaily.com.cn]
Inspiring Women China, a British Council program based on a successful initiative in the UK, officially launched its volunteer network on Saturday at the Beijing Tianqiao Performing Arts Center.
The network will enable the initiative to grow to scale across China and invite more volunteers in any chosen field to share their expertise and knowledge, said Carma Elliot, County Director of the British Council in China and Minister (Culture and Education) at the British Embassy, at the event.
"The British Council aims to have 1,000 schools and 10,000 volunteers signed up before 2020," Elliot added.
Since the launch of Inspiring Women China in 2015, about 100 schools have registered to take part in program activities and more than 600 women have signed up to be volunteers. The result is the combined efforts of the informal network, Elliot explained.
"In selecting volunteers, we are not confined to ages and genders. Basically, everyone can be one of them," Elliot told China Daily website.
The network's launch is a proactive response to China's interest in addressing the UN's 2030 Agenda for Sustainable Development Goals. And it also helps to position gender equality and women's empowerment at the core of the China-UK relationship, she emphasized.
According to the British Council, Inspiring Women China aims to inspire girls and young women about the world of work, to raise their confidence and aspirations, and enable them to make better informed choices about their career options.
At the heart of this program is a network of successful women from a broad range of backgrounds who volunteer their time to speak to students in schools about their work and the path they took to get there.
It is also a part of the Women of the World Festival (WOW), a UK-based event that makes its China debut in Sept at the Beijing Tianqiao Performing Arts Center.
The month-long WOW event features programs such as exhibitions, performances, workshops and forums, all of which celebrate women's achievements to inspire younger generations and explore the challenges that women still face today.