Montana ranchers seek partnerships to send US beef into Chinese markets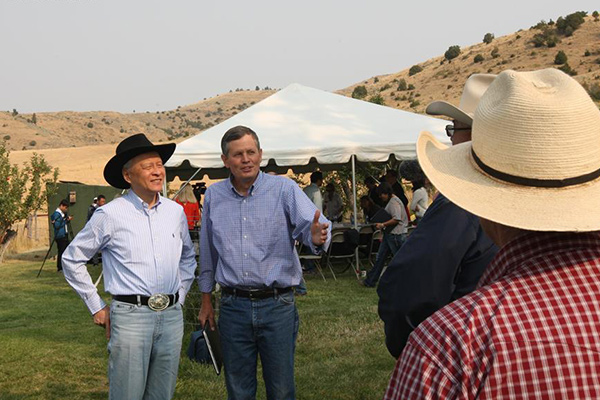 Steve Daines (2nd L), a senator from US state of Montana, and Cui Tiankai (1st L), Chinese Ambassador to the United States, speak with Fred Wacker and other cattle ranchers at the Morgan Ranch House, near downtown Bozeman, Montana, the United States, on Sept 8, 2017. [Photo/Xinhua]
BOZEMAN, United States - "We're very excited that China removed a ban on US beef imports," said Fred Wacker, a third-generation rancher of Miles City in the northwestern US state of Montana, where there're about three heads of cattle for every person.
Two months ago, as part of the 100-day action plan to boost economic cooperation between the United States and China, the two countries reached a deal to reopen Chinese markets for US beef.
China banned US beef imports in 2003 amid concerns over mad cow disease. After the lifting of the ban, ranchers in Montana like Wacker are eager to tap the huge potential of Chinese markets, which have around 300 million middle class consumers.
However, Montana currently doesn't have a large processing plant to handle beef exports to China. Most US meat producers that have been approved to export beef to China are located in the Midwestern states of Nebraska, Iowa and Kansas.
Wacker, vice-president of the Montana Stockgrowers Association, said it would cost him about $80 a head to send cattle to feedlots and processing plants in the Midwest, so as to ship beef products to China and other overseas markets. He would like to build a world-class processing plant in Montana.
"We have the land, we have the cattle, we have the quality, we have the water," Wacker said, "We have the interest in putting in a major processing plant here, and we also have very high-quality products."
But Wacker couldn't build the multi-million dollar infrastructure on his own. "We need a partner who is interested in Montana. We need a partner who would take a look and be a major buyer of our plant," he said, hoping Chinese companies could have interests in the deal.
"It's a really smart place for China to put in investment and to partner with Montana to have a really good packing industry and processing plant here," Wacker said, arguing that would help bring down logistic costs and guarantee stable supply of high quality beef to China, a win-win deal for both sides.
Wacker's proposal was well received at a roundtable meeting on Friday between a Chinese delegation and Montana farmers and ranchers, hosted by US Senator Steve Daines at the Morgan Ranch House, near downtown Bozeman, Montana.
Officials and staff from China's embassy in the United States, China General Chamber of Commerce - USA, and Bank of China (USA) all offered advice for identifying potential Chinese companies to partner with Montana on the processing plant and build brand awareness.