Six injured in London noxious substance attack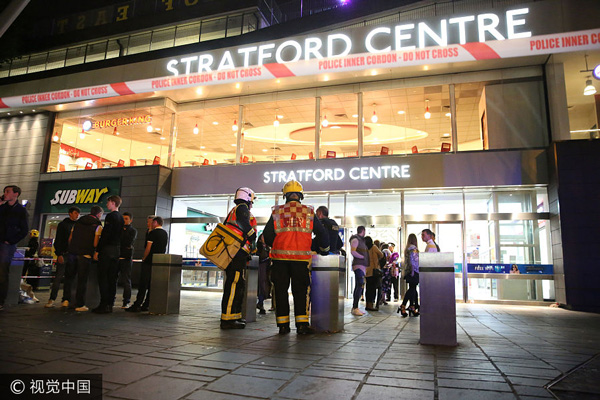 Emergency services at Stratford Centre in east London, following a suspected noxious substance attack where six people have been reported injured, on Saturday. One man has been arrested on suspicion of causing grievous bodily harm. [Photo/VCG]
At least six people have been injured in a attack with noxious substance involved near a popular shopping center in Stratford, east London, on Saturday night.
Police and emergency services rushed to the scene near the Stratford Centre following reports of a group of males spraying people with what was believed to be noxious substance.
The metropolitan police have confirmed one male has been arrested on suspicion of grievous bodily harm. The police are not treating the incident as terror related.
London Ambulance Service, British Transport Police and the London Fire Brigade are all in attendance in the area.
As many as six people have been reported injured at different locations close to the shopping center.
Officers remain on the scene and a cordon is in place.
The UK has seen a significant increase in chemical-related attacks this year. Public uproar and media questioning has prompted authorities to tighten restriction on the sale of corrosive substances in recent months.
Almost 400 of the approximately 1,500 chemical attacks reported to London police over the last five years have occurred in the borough of Newham, where Stratford is located.
angus@mail.chinadailyuk.com