UN Environment uses Chinese star power
Actor-producer Li Chen runs while others walk toward a pollution-free world
During preparations for the third meeting of the UN Environment Assembly to be held at the end of this year, the United Nations Environment Programme is carrying out more measures to promote awareness.
"We must empower people like the politicians, who can create policies to cut pollution and protect our oceans and landscapes," says Erik Solheim, executive director of UN Environment. People like the company bosses who can help us change the way the world produces and consumes. And people like the students, youth leaders and individual citizens who can inspire important lifestyle changes in their communities."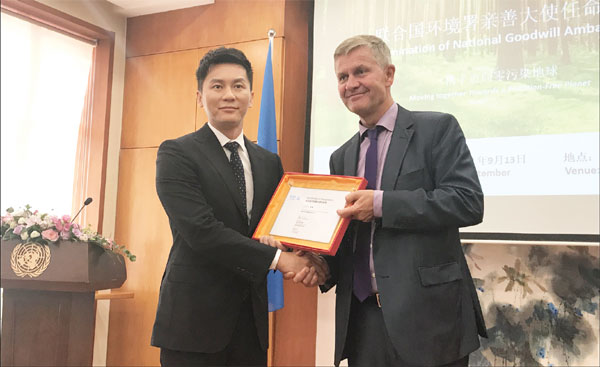 Erik Solheim, executive director of UN Environment, awards Chinese movie star and producer Li Chen the honor as the national goodwill ambassador. Yan Dongjie / China Daily
UN Environment nominated Chinese movie star and producer Li Chen on Sept 13 as the national goodwill ambassador to China, calling for public participation and commitment on "BeatPollution" and actions for moving together toward a pollution-free planet.
The third meeting of the UN Environment Assembly, the world's highest-level decision-making body on the environment, will gather in Nairobi, Kenya, from Dec 4 to 6 to discuss pollution.
This year's assembly will focus on sustainability and climate neutrality, aiming to deliver a number of tangible commitments to end the pollution of air, land, waterways and oceans, and to safely manage chemicals and waste.
The commitments include a political declaration on pollution, linked to the UN's sustainable development goals, to signal that humanity can work together to eliminate the threat of pollution and the destruction of our planet; resolutions and decisions adopted by member states to address specific dimensions of pollution; voluntary commitments by governments, private sector entities and civil society organizations to clean up the planet; and the "Beat-Pollution" pledge, a collection of individual commitments to clean up the planet.
As the new envoy, Li will help promote campaigns initiated by UN Environment, such as "BreatheLife" and "CleanSeas", raising awareness of environmental and conservation issues in China and calling for public participation to beat pollution and moving together toward a pollution-free planet.
Li has been active and vocal on environmental issues in China. The posts focused on the environment and public issues on his Weibo account, which has more than 40 million followers, received more than 1 billion views in 2015.
Li was named "ambassador for environmental protection" of Beijing in March last year, and attended the second meeting of the UN Environment Assembly last year in Nairobi.
Li called for people to learn about the third meeting of the assembly and to commit to clean up the planet at the nomination ceremony.
"I grew up in Beijing and have witnessed how the environment changed in the past years. ... I feel sad, as well as pressured, and I realize the importance of protecting the environment, especially the air," Li said in his speech after the nomination ceremony in Beijing.
Li said that according to World Health Statistics 2016, nine in every 10 people in the world breathes polluted air.
Air pollution is now the world's largest single environmental health risk, responsible for about 7 million deaths annually, which are premature and preventable, according to the latest data from the World Health Organization.
The WHO report Preventing Non-Communicable Diseases by Reducing Environmental Risk Factors links air pollution to higher rates of noncommunicable diseases like heart disease, cancer and stroke. It says that globally 23 percent of all deaths could be prevented through healthier environments.
Only 12 percent of cities achieve WHO guideline levels for air quality - and many suffer from air pollution levels that are double, triple or even more above WHO limits.
BreatheLife is a global campaign led by UN Environment and the WHO. Currently, 42 cities around the world have joined the campaign, including major cities in Mexico, Chile, and the United Kingdom. The cities promise to carry out more than 60 regulations and controlling measures to improve air quality, expecting to benefit more than 20 million people in the future, according to Naysan Sabha, director of UN Environment's communication division.
"When some influencers - people like Li Chen - do this, they are heard and inspire hearts in a way that I can never imagine to do it. They amplify our voices, they amplify the actions that each one of us need to take," Sabha says.
Sabha praises Li's commitment to work with the UN Environment not only in his artistic endeavors, but also in his business endeavors and charitable activities.
"He is recognized as one of the most influential Chinese voices for charity," Sabha says. "This is a man who has a fundamental, deep commitment to these environmental causes and particularly the cause of air pollution. And while some of us are walking toward a pollution-free planet, he has been running toward a pollution-free planet."
Solheim points to the importance of citizen participation in environmental protection and explains the three dimensions of how UN Environment cooperates with China to promote awareness.
"The governments need to regulate the market, to put pressure on business and also set standards for pollution - how much pollution is acceptable in Beijing today," Solheim says. He also expects companies to find new technologies that benefit the environment.
Beijing has carried out continuous air pollution control work since 1998 and launched the Five-Year Clean Air Action Plan (2013-17) in 2013, according to Li Xiaohua, deputy director-general of the Beijing Environmental Protection Bureau.
Li Xiaohua says that the average PM2.5 density level in Beijing had dropped by 23.7 percent as of the end of 2016.
"This year is the last year of this five-year plan, and air quality in Beijing has improved during this period," Li Xiaohua says, adding that from January to August this year, PM2.5 density in Beijing was at its lowest level in nearly five years.
Solheim recognizes and praises China's efforts on environmental protection.
"There has been enormous improvement in China's environmental management," Solheim says. "I know the government is dedicated to reducing pollution. I'm very optimistic."
yandongjie@chinadaily.com.cn