Dominica PM confirms at least 15 killed in hurricane Maria attack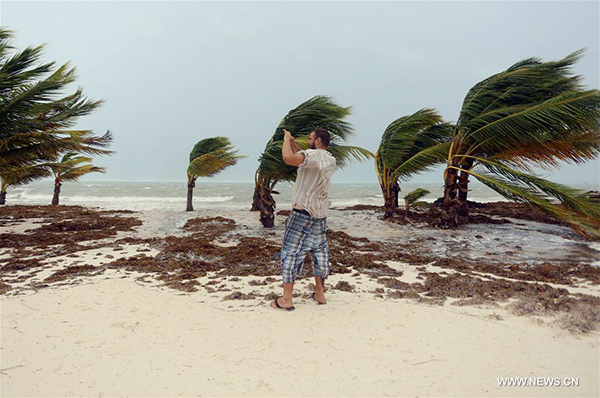 Image taken on Sept 20, 2017 shows a tourist taking pictures during the passing of Hurricane Maria in Punta Cana, Dominican Republic. Roosevelt Skerrit, Prime Minister of Dominica confirmed on Thursday that at least 15 people were killed and some 20 were missing when the hurricane Maria attacked the country on Monday.[Photo/Xinhua]
KINGSTON - Roosevelt Skerrit, Prime Minister of Dominica confirmed on Thursday that at least 15 people were killed and some 20 were missing when the hurricane Maria attacked the country on Monday.
Skerrit disclosed the information while being exclusively interviewed by neighboring country Antiqua and Barbuda ABS TV and Radio on Thursday as Dominica's telecommunication and transportation were disconnected after the disaster.
Skerrit said the destruction is big and it will take long time for the country to recover.
Category 5 Hurricane Maria landed Dominica on Monday evening with a speed at 260 kms a hour.
In August 2015, Tropical storm Erika battered Dominica killing at least 20 people.