Hurricane Maria 'devastates' Dominica
ROSEAU, Dominica - Hurricane Maria battered the Caribbean island of Dominica on Tuesday, with its prime minister predicting potentially grave losses and mass destruction as winds and rain from the Category Five storm barreled into territories still reeling from Irma.
With residents fleeing homes, Maria made landfall with top winds swirling at 260 km/h, the US National Hurricane Center said.
"We have lost all what money can buy and replace," Dominica's premier Roosevelt Skerrit said, adding that there were initial reports of "widespread devastation".
"My greatest fear for the morning is that we will wake to news of serious physical injury and possible deaths as a result of likely landslides triggered by persistent rains."
Earlier, he said his roof had been blown off, his house was flooding and he was "at the complete mercy of the hurricane".
Dangerous storm surges, destructive waves, flash floods and mudslides also threaten the Leeward Islands - the island group that includes Martinique, Puerto Rico and the US and British Virgin Islands - the NHC said.
Guadeloupe - the bridgehead for aid for Irma-hit French territories - ordered all residents to take shelter in a maximum-level "violet alert" effective from 8 pm as powerful rains drenched the French Caribbean island.
St. Kitts, Nevis, the British island of Montserrat, Culebra and Vieques were also on alert.
On Martinique, also part of France, energy supplier EDF said power had been cut off from 16,000 homes, although a hurricane warning on the island was later downgraded to a tropical storm.
In rain-lashed St. Lucia, which also faced a tropical storm warning, flooding, mudslides and power outages were reported in parts of the island.
Airport, ports closed
Dominica's airport and ports have been closed, and the local water company shut down its systems to protect its intake valves from debris churned up by the storm.
Criticized for the pace of relief efforts in their overseas territories devastated by Irma, Britain, France and the Netherlands said they were boosting resources for the Caribbean as Maria approaches.
"We are planning for the unexpected, we are planning for the worst," said Chris Austin, head of a UK military task force set up to deal with Irma, as the British Virgin Islands readied for the storm.
On the island of St. Martin, which is split between France and the Netherlands, authorities announced a red alert ahead of Maria's arrival.
"We're watching its trajectory very closely, and we're preparing for the worst-case scenario," said local official Anne Laubies.
The Dutch Navy tweeted that troops were heading to the two tiny neighboring islands of Saba and St. Eustatius to ensure security following widespread complaints after the first hurricane of looting and lawlessness on St. Martin, among the worst hit by Irma, with 14 killed.
AFP-AP-Reuters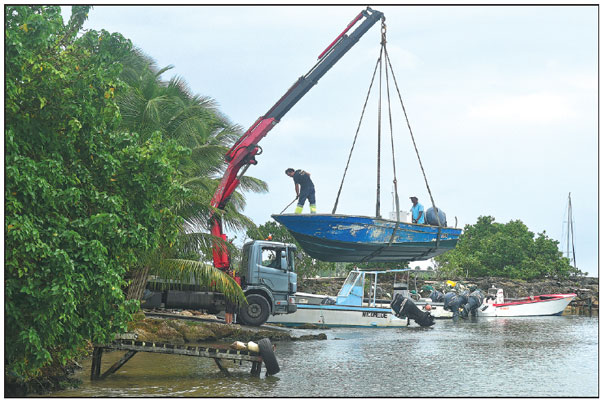 Men remove boats from the water ahead of Hurricane Maria on the French Caribbean island of Guadeloupe, on Monday. The hurricane smashed into Dominica on Tuesday, leaving what an official described as "widespread devastation".Dominique Chomereaulamotte/ AP
(China Daily 09/20/2017 page11)
Today's Top News
Editor's picks
Most Viewed