Wang says China always sides with peace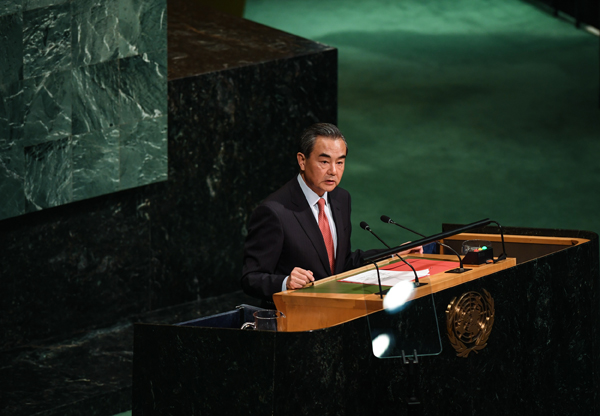 Foreign Minister Wang Yi speaks during the general debate of the 72nd session of the United Nations General Assembly at UN headquarters in New York on Sept 21, 2017. [Photo/Xinhua]
Foreign Minister Wang Yi said that in a complex and volatile world, China is an "anchor of stability".
"The international configuration and balance of power has undergone profound changes: the traditional and nontraditional threats have become more salient; global growth lacks robust driving forces; the trend of anti-globalization goes rampant; and the challenges for humankind to realize a lasting peace and orderly development are unprecedented," Wang said on Thursday.
He spoke during the general debate of the 72nd session of the United Nations General Assembly at UN headquarters in New York.
Wang recalled that, two years ago at the UN, President Xi Jinping called for the construction of new international relations, featuring win-win cooperation, to build a shared future for mankind.
"The concept, which is in line with the ultimate goal of the United Nations and highly consistent with the pursuit of the member states, has gained extensive understanding and support from the international community and become a common goal," he said.
"China has no genes of aggression and record of plunder, as President Xi solemnly swore: 'No matter to what extent we develop, China will never seek hegemony, expansion or sphere of influence'," Wang said.
"China will always vote for the side of peace at the UN Security Council," Wang said.
He said that the UN has made an outstanding contribution to the cause of peace and development of humankind, but that the UN's ideals have not yet been achieved and all countries need to continue their efforts.
Wang urged the five permanent members of the Security Council to play an exemplary role, follow the principles of no conflict, no confrontation, and mutual respect and win-win cooperation.
Members of the UN should treat each other equally, advocate dialogue instead of confrontation, and partnership instead of alliance, Wang said.
On security, Wang said that comprehensive measures should be adopted to tackle terrorism on the surface and at its root.
The UN should assume a coordinated role in promoting the formation of a global, united anti-terrorism front, he added.
He said that over the past five years, China has made remarkable achievements in the development process.
Under the leadership of the Communist Party of China Central Committee and Xi, its general secretary, China has had brilliant achievements, and socialism with Chinese characteristics has entered a new, historical stage, Wang said.
Wang believes China's progress will continue to bring greater peace, development and governance dividends to the world.