Halimah Yacob swears in as Singapore's first female president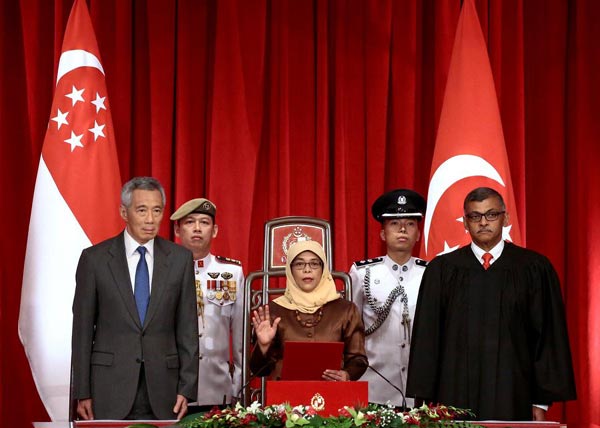 President-elect Halimah Yacob (C) takes the oath of office while flanked by Singapore Prime Minister Lee Hsien Loong (L) and Chief Justice Sundaresh Menon (R) during the presidential inauguration ceremony at the Istana Presidential Palace in Singapore Sept 14, 2017. [Photo/Agencies]
SINGAPORE - The president-elect Halimah Yacob was sworn in as Singapore's eighth president here Thursday night at the country's presidential palace Istana.
The presidency "unifies our nation by embodying our shared values as a people -- multiracialism, meritocracy, and stewardship. These values are even more important today, guiding us as we find our way forward in a troubled and uncertain world," said Halimah Yacob in her speech.
As the country's first female president, Halimah Yacob assured all Singaporeans she would serve every one, regardless of race, language or religion.
Halimah Yacob was announced Wednesday as the country's next president. As the only qualified candidate in the election which was reserved for the country's Malay community, she was declared by the presidential electoral board as the new president shortly after she handed in her nomination forms.
63-year-old Halimah Yacob became the country's first female parliament speaker in January 2013, a post she quitted last month in order to run for the president.
Singaporean former President Tony Tan Keng Yam ended his six-year term in office at the end of August.