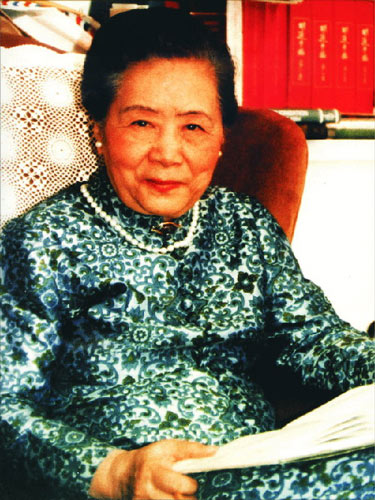 File photo of Chien-Shiung Wu
Chien-Shiung Wu spent most of her life in the United States, but the Chinese-American nuclear physicist is at least as well known, if not much more, among the Chinese than among Americans.
On March 17, the US Department of Energy website published an article eulogizing Wu's many achievements during National Women's History Month this month. The article appeared at an interesting time when US Secretary of Energy Ernest Moniz, also a nuclear physicist, was visiting China ahead of the Fourth Nuclear Security Summit to be held in Washington later this month. President Xi Jinping and leaders from more than 50 countries are expected to attend the summit.
Known as the "Chinese Madame Curie", "First Lady of Physics", "Queen of Nuclear Research" and "Dragon Lady" by her Columbia University students after a character in a popular comic strip, Wu was born in Shanghai on May 31, 1912, and grew up in Liuhe, a town in Taicang of Jiangsu province. It was a year after the Qing Dynasty (1644-1911) was overthrown in a revolution led by Dr Sun Yat-sen, who founded China's first republic.

Wu was lucky at a time of few educational opportunities for women in China. She attended the Ming De School, an elementary school for girls founded in 1913 by her father, Wu Zhongyi. On May 31, 2012, a ceremony was held there to celebrate both her and the school's centennials. It was attended by her son Vincent Wei-chen Yuan, also a nuclear scientist, and several other family members.
After graduating a top student from Suzhou No. 2 Women's Normal School in 1929, Wu, known widely on the Chinese mainland today as Wu Zhenxiong, was enrolled in the National Central University (now Nanjing University) from 1930-1934 to study mathematics and then physics.
During that time, she also taught at the Public School of China in Shanghai, where she became a student of famed philosopher Hu Shih, a student of American philosopher John Dewey. Hu was president of the school and later Republic of China's ambassador to the US from 1938 to 1942. It was not sure if this relationship had an impact on Wu's outspokenness against political injustice throughout her life.
In August 1936, Wu boarded the steamship President Hoover to pursue further study in the US. The same ship, which provides trans-Pacific service between San Francisco and the Far East, ran aground in December 1937 off the Taiwanese coast, fortunately with no life lost.
Instead of attending the University of Michigan as planned, Wu went to the University of California, Berkeley. The decision was made after a field trip there where she met Luke Chia-Liu Yuan, grandson of Yuan Shikai, the first president of the Republic of China. Luke Yuan, a physicist also known as Yuan Jialiu, married Wu in 1942.