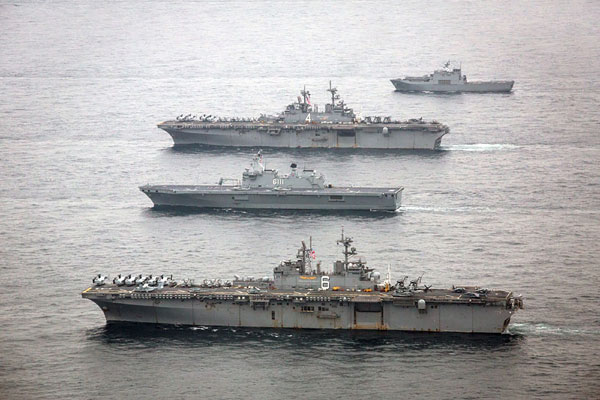 The US Navy amphibious assault ships USS Bonhomme Richard, bottom, and USS Boxer, second from top, are underway with the Republic of Korea Navy Dokdo Amphibious Ready Group in the East Sea during exercise Ssang Yong 2016, March 8, 2016. [Photo/Agencies]
The vicious circle at work on the Korean Peninsula, whereby each side blames the other for being provocative while speaking and acting provocatively, is dangerous. Not just because the spiral is proving hard to break, but because the saber-rattling and verbal sparring are pushing it to ever greater extremes.
Washington has told Pyongyang that the largest-ever war drills being conducted by the United States and the Republic of Korea are not meant to provoke the Democratic People's Republic of Korea. Yet the unprecedented deployment of US strategic weapons goes far beyond a regular show of muscle, and the joint exercises reportedly include simulated surgical strikes on selected targets in the DPRK.
In return, an irate Pyongyang keeps raising the pitch of its threats. After initially vowing to launch "preemptive attacks", it is now threatening nuclear annihilation of Seoul and Washington D.C.
And after appearing in a picture with a claimed "miniaturized nuclear warhead", DPRK leader Kim Jong-un issued a call for a nuclear warhead explosion test and test firings of "several kinds" of ballistic rockets "as soon as possible".
Kim might not be serious. Yet the underlying truth is he has been steadily pressing ahead with his country's nuclear weapons program.
While the latest United Nations sanctions are said to be "beginning to bite", they are yet to curb Kim's nuclear ambitions. The current military drills may even spur him on.
The standoff is fragile and inflammable.
Pyongyang is betting Seoul and Washington will not pull the trigger, because they cannot rule out the probability of nuclear retaliation. Seoul and Washington are betting Pyongyang will not follow through on its threats, because that would be suicidal. Despite all the rhetoric about preemptive attacks, both sides appear to believe the other is bluffing.
That is where the real danger lurks. With the UN sanctions starting to pinch the DPRK, its economic conditions continuing to deteriorate, and tensions mounting and escalating on the peninsula, there is no guarantee either will retain a cool head.
Going back to the negotiating table is the only formula for an all-win scenario, not only for the three at loggerheads, but also beyond.
As a permanent member of the UN Security Council and a close neighbor of both Koreas, China is seeking to broker peace and contain the crisis.
Since neither party has excluded the prospect of talks, the relevant parties should heed Beijing and help to make that happen.