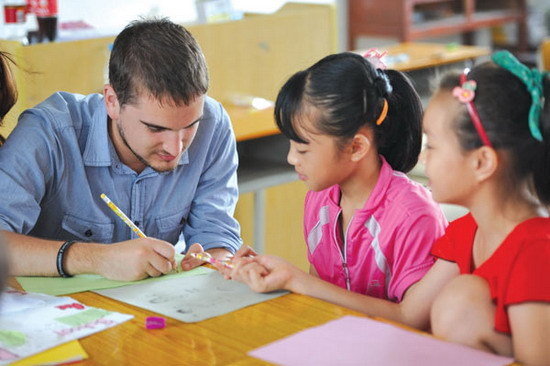 A foreign teacher teaches Chinese children how to learn English through paintings. Many students in China have trouble learning English and using it in their daily lives. [Photo/China Daily]
I've been in China for almost four and a half years now, teaching more than 4,000 classes and nearly as many students. It's given me experiences I'll never forget.
I didn't come here in need of job. I was semi-retired in 2005. I wrote a book that sold quite well and got hundreds of invitations to speak at various venues regarding my message. However, after many years of building a private school and watching it thrive and succeed, I never got education out of my heart and soul. It had become a part of me. In 2011, I found myself in a place where I could give back in a more significant way than I had ever before. That's when I came to China.
I came here at the invitation of a highly successful educator in the USA. He was from China and held a doctorate level degree from an Ivy League school. He had 20 years of experience and tenure as a professor in the USA. A good man and friend, however, after I arrived here it didn't take long to realize we had two very different ideas about serving the educational needs of Chinese children. So, we parted ways on very good terms and rather than return to the USA, I chose to stay here and make a difference in the lives of Chinese children.
One thing that I realized right away is that very few, if any, foreign teachers really knew how to develop educational programs that were effective in producing high quality students who were prepared and equipped to study in the West. I knew how because I'd done it successfully in my own school in the USA for 15 years. My school there had about 750 students when I sold the property and transferred the school to very capable and experience educators.
Something has 'gotten into my blood' over the last four years. My passion, rather than declining or waning, is stronger today than it has ever been. I've enjoyed watching students go on to excel in ways that I'd hoped and dreamed for them. There are so many stories I wished there was enough time for me to share.
I've changed in the past 4.5 years. I will say that my change has been welcomed and all for the better. One thing that I've done that suits my character well is that I've stayed in one place for all of this time. I've had invitations to some rather well funded and excellent schools in Beijing, Harbin, Shanghai and Guangzhou. However, I believe that the greatest need was right here in Henan. It's not the most glamorous and certainly not the most metropolitan place in China, but, it is where the need is. That's why I stay. It is why I stay in China where I can add my contribution in making the world a better place.
The original blog is at: http://blog.chinadaily.com.cn/blog-787069-34778.html