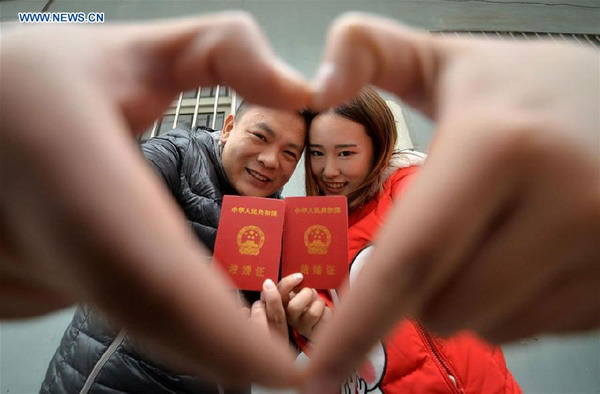 A couple pose for pictures after registering for marriage at a marriage registration office in Handan, North China's Hebei province, Nov 11, 2015. [Photo/Xinhua]
Being single is a lifestyle. We cannot say it is an alternative. It is a well-established civil status and there are many people permanently or temporarily living single.
Perhaps in primitive societies where stoning and lashes are still frequently practiced, staying single would be a challenge. In the developed and civilized world, being single is not a problem and there are no vulnerabilities even for single old women in terms of security and welfare.
There are millions of people living among us enjoying the single lifestyle, where they can have financial freedom, make their own choices on everything and choose  from career opportunities. They also can spend a lot of free time with many people rather than investing their time and energy with a few people for the sake of their family.
However, things get awkward when it comes to living among others. Some people consider the single person as the object of attention. They ask, why you are still not married? It would be better if singles prepared a tape with an explanation.
However, nothing will satisfy them as their objective is to show how happy they are in their married life, and how blessed their life is with kids and a partner. Then comes the unsolicitated matchmaking. "Hey!Honey, I got a brother/sister of my aunt who is looking pretty young though he is 45. The guy had a gambling/psycho problem too, but aunt says not anymore. But everything will be ok when you get married to him/her. Do you like this?" This drama drives most single people mad.
Additionally, there are awkward proposals and sexual advances, selfish dating requests, suspicions from silly women and men about their young kids and partners, baseless gossip to name few of troubles in single life, especially in Asian societies. However, the agony of this matter is none of these problems are the problems of singles or being single, but are in the mindset of others. And did I mention the pressure from family, especially from parents? Oh my goodness, let us not talk about it. It will make my blog post a novel.  
Singles will never get rid of these problem if they live others' lives.  I think singles should lift their lives to a bigger cause. Simply, they should think of their singleness as an advantage.