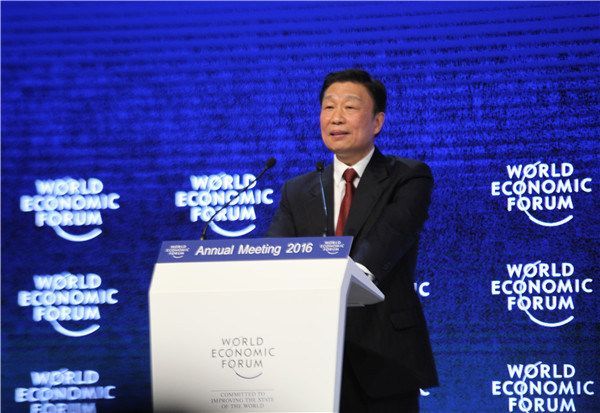 Chinese Vice President Li Yuanchao was giving a special address injecting confidence into global leaders of politics and businesses at the annual meeting of World Economic Forum in Davos, Switzerland on Thursday. [Photo by Fu Jing/China Daily]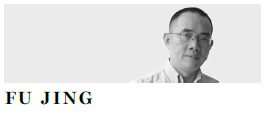 For years, China's economy has been center stage at the World Economic Forum's annual meeting in Davos, Switzerland. This year's gathering last week was no exception. While also focusing on new global trends, the EU's migrant crisis, terrorism, regional conflicts and other issues, China was still a primary subject.
The participants even showed their concerns in a straightforward way.
"Is China's economy still Ok?" I was repeatedly asked.
And other Chinese participants and journalists were asked the same question.
This is not the first time that the world has been gripped with anxiety about the state of the Chinese economy. Fortunately, the forecasts of doom in the past, which predicted a hard landing and economic collapse, have never come true, and they are unlikely to materialize this time too.
Vice-President Li Yuanchao provided figures and vivid stories in his speech, to answer the question and convince attendees at this year's gathering that China's economy is still doing well and has sound fundamentals.
For example, he said China has boosted entrepreneurship by cutting the red tape for business startups, which has resulted in up to 12,000 new businesses every day and is promoting the fourth industrial revolution. Putting Internet technology and connectivity at the heart of transformations was the theme of this year's forum, and it is set to become a new driving force of China's economy in the coming years.
During Li's speech, a friend of mine posted a comment via the instant messaging app WeChat saying the vice-president was talking about whether China will be Ok economically. After hearing the speech, she posted another comment saying that China will "always be Ok".
Klaus Schwab, chairman of the World Economic Forum, also said he was convinced by Li's confidence when he chaired the talks
But not all the Chinese participants had the same optimism. Many from academia urged the government to speed up the implementation of its reform agenda, which was formulated two years ago. They are concerned about the delay in pushing forward reforms and how the unfolding geopolitical challenges are affecting China's economic development.