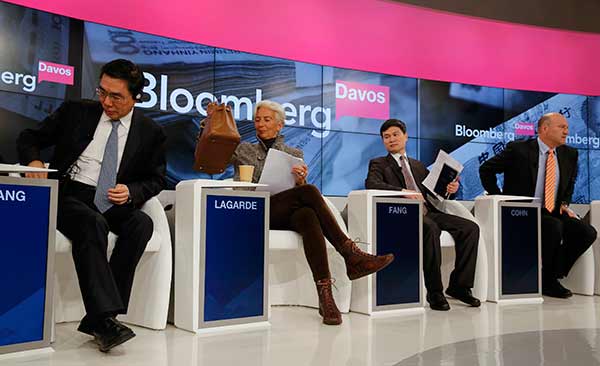 Jiang Jianqing, chairman of the board, Industrial and Commercial Bank of China, Christine Lagarde, managing director, International Monetary Fund (IMF), Fang Xinghai, director-general, International Economic Department, Office of the Central Leading Group for Financial and Economic Affairs of China and Gary D. Cohn (L-R), president and chief operating officer, Goldman Sachs, arrive for the session 'Where Is the Chinese Economy Heading?' of the annual meeting of the World Economic Forum (WEF) in Davos, Switzerland January 21, 2016.[Photo/Agenicies]
DAVOS, Switzerland - China's economy is going through a series of historic transitions, and recent short-term market volatility will prove temporary, experts attending the World Economic Forum (WEF) Annual Meeting 2016 here said on Thursday.
The Chinese government is implementing wrenching reforms trying to shift its growth driven from investment and manufacturing to services and consumption. Experts warned that the uncertainty during the process will lead to periodic market disruptions.
China witnessed a turbulent year in 2015. Growth in the world's second largest economy hit a quarter-century low of 6.9 percent, compared with 7.3 percent a year earlier.