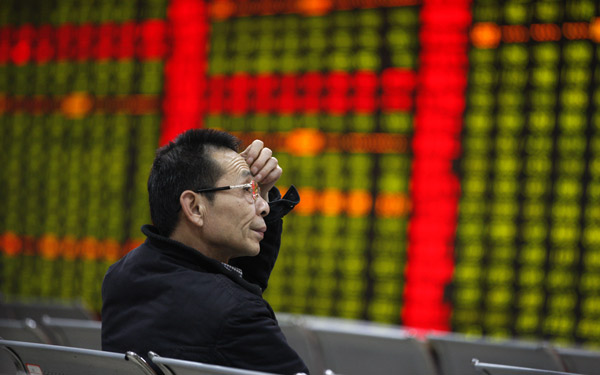 A man checks stock prices at a brokerage in Huaibei, Anhui province. [Photo/China Daily]
Experts blame global market turbulence and unstable offshore currency market
The mainland's three main stock indexes dropped more than 3 percent on Thursday, influenced by global market turbulence, an unstable offshore currency market and falls in Japan.
The benchmark Shanghai Composite Index declined 3.23 percent to close at 2,880.48 points, the Shenzhen Component Index dropped 3.77 percent, and the startup index ChiNext fell by 4.18 percent.
"Global markets interact with each other and the A-share market can be influenced by outside conditions such as a sell-off in Japan," said Hong Hao, managing director and chief strategist at BOCOM International Holdings Co.
"An unstable offshore currency market can be another reason."
The Topix index fell 2.8 percent to 1,301.49 at the close in Tokyo, reversing gains of as much as 1.6 percent; the Nikkei 225 Stock Average closed 2.4 percent lower at 16,017.26, according to Bloomberg data.
The Standard & Poor's 500 Index ended down 1.2 percent on Wednesday at a 21-month low, while the Dow Jones Industrial Average pulled back from its steepest intraday slump since August to shed 249 points by the close.
Li Daxiao, chief economist at Yingda Securities Co, said: "With the impact of US interest rate hikes and stock market cycle rotation, there is weak performance on global markets, which also influences China."
However, Li also said he considered the A-share market as near its bottom, representing a good time to invest.
The People's Bank of China, the nation's central bank, said in a statement on Monday that China will require foreign financial institutions in the country to hold yuan in reserve, a move to curb speculative sell-offs of the Chinese currency. The new regulation comes into effect on Jan 25.
Hong Hao said that after that intervention in the offshore yuan market, the sudden weakness in the Hong Kong dollar has now become the focus for traders.
He said the currency came under attack by short sellers which also pulled down Hong Kong's stock market and had a knock-on effect on the A-share market.
Deng Haiqing, chief economist at JZ Securities Co, also agreed that Hong Kong's unsteady currency and stocks had had a strong influence on pulling down A shares.
The China Insurance Regulatory Commission organized a meeting on Wednesday to revise regulations on insurance companies' financial products, concluding insurers will not be allowed to issue new high-return products with policy terms of less than three years.
Many funds financed through these financial products are invested in the A-share market, and Deng said that too could be playing a role in the A-share losses.
China's central bank, meanwhile, also continued to ease liquidity strains on the financial system on Thursday, injecting another 400 billion yuan ($60.8 billion) of funds through reverse repurchase operations.
Hong said the central bank's injection was not enough to offset the seasonal demand for liquidity, but still added he had "confidence in the Chinese A-share market in the long term".