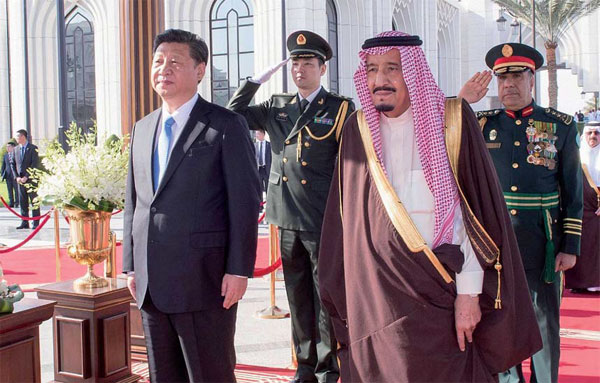 President Xi Jinping is welcomed by Saudi King Salman bin Abdulaziz Al Saud at a ceremony in Riyadh on Jan 19. Xi arrived in Saudi Arabia on the first stop of a three-nation tour of the Middle East. Reuters / Saudi Press Agency
The world has lived through a period of incessant warfare under Pax Americana when interference in the domestic affairs of countries in the disfavored nation list of the Empire is the norm. Regime change, false flag incidents, support of terrorists aka freedom fighters or vice versa were the key features of a World Order that was in disorder.
Has the world grown tired of wars and looking for an era of peace when warfare under whatever pretext or provocations be condemned? President Xi Jinping has gone on a tour of Africa followed by the Middle East with a mission of peace, commerce and economic development under the guiding principle of no interference in the domestic affairs of nation states.
After his African trips last year, Xi' s latest schedule included the visits to Saudi Arabia, Egypt and Iran in one week. Only a major power with good relations to countries locked in a conflict would be welcomed by the warring states. Egypt' s relation with the two economic powers of the Middle East is at best tentative and measured.
China did not visit these countries to sign military alliances or to engage them by taking sides in their conflict. Xi' s trips were purely for economics and economic diplomacy. Though nothing much was revealed in the visit to Riyadh, Xi was warmly received by the House of Saud and the King himself. There were hints that both countries would ink a comprehensive strategic partnership during the visit.
In Egypt, the two countries signed economic agreements involving US$15b in investment projects. Similarly, several billions of contracts were signed in Tehran. Xi was warmly received equally in Egypt and Iran despite the rivalry and tension in the region.