Bike-sharing companies required to buy insurance for users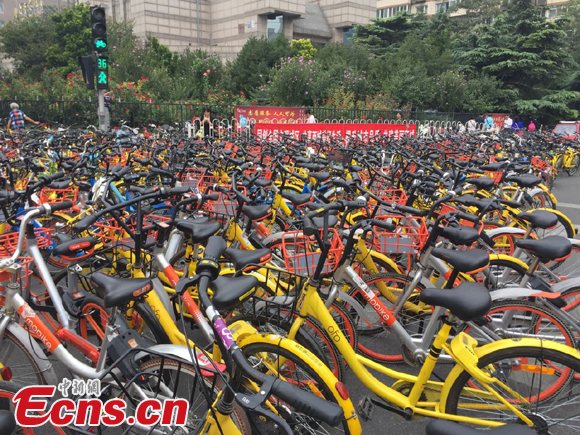 Shared bikes clutter a street in Xicheng District, Beijing, Sept 15, 2017. [Photo/ Ecns.cn]
Beijing is requiring providers of public shared bikes to purchase life accident insurance while banning children under 12 from using them and prohibiting commercial advertisements on the two-wheelers, according to a new guideline.
Jointly issued by Beijing's 11 governmental departments, the guideline aims to regulate the booming bike-sharing industry while acknowledging that it's a green solution to traffic congestion and flexible mobility.
The rules require all bikes to have GPS and meet safety standards. Users must register with their IDs and companies providing the bikes have the responsibility to remind them of safety information and provide accident insurance. The companies also need to open special accounts to save user deposits.
Beijing Municipal Commission of Transport said the guideline was based on studies of Mobike, Ofo and other startups as well as administration practices in Shanghai, Shenzhen and Chengdu.
Beijing's 15 bike-sharing companies have altogether placed 2.35 million bikes across the city. New addition were banned in the city.
The guideline also made it clear that electric bikes will not be encouraged here.
Beijing is still working on more specific technical standards and parking requirements to be released later under the newly introduced guideline.