Athletes from 57 countries and regions participate in tai chi competition in China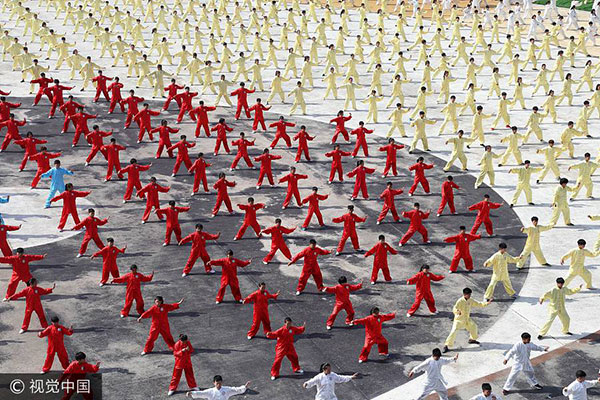 About 10,000 amateurs practice tai chi at the International Exchange Center of Tai Chi Culture in Chenjiagou of Wenxian county in the city of Jiaozuo, Henan Province, on Sept 1, 2017. [Photo/VCG]
JIAOZUO, China - More than 4,000 athletes from 57 countries and regions participated in the 9th International Tai Chi Competition started on Saturday in Central China's Jiaozuo city, the birthplace of Tai Chi.
Uruguayan Gonialo, 34, was one of athletes to take part in the competition. He has been practicing Tai Chi for four years, and he learnt Tai Chi of Chen style in Henan University of Technology from May, 2017.
"I like Chinese Kungfu after I saw a martial arts movie when I was 15 years old, Tai Chi is a kind of Kungfu, which can help you find the inner peace and is good for health," said Gonialo, a co-founder of a real estate company in Uruguay.
"About 300 million people can practice Tai Chi in the world, and it has become a cultural sign of China. I hope it can become a bridge to connect China to the world," said Xu Yixian, mayor of Jiaozuo city.
The International Tai Chi Competition has been held in Jiaozuo city every two years. A village named Chenjiagou in Jiaozuo was considered as the birthplace of Tai Chi.