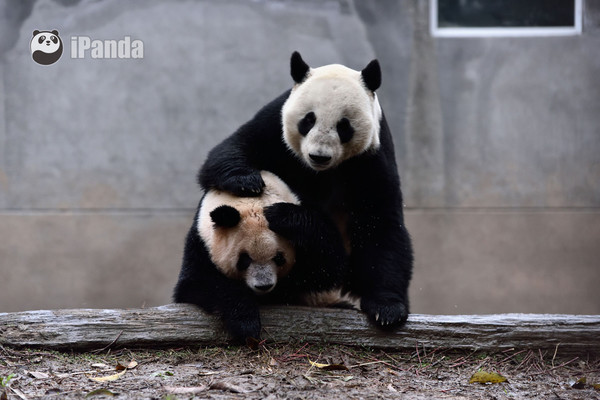 File photo of two giant pandas. [Photo/iPanda.com]
Some netizens checking the 24/7 live video feed at a research center for giant pandas in Sichuan province are hoping to catch a glimpse of the bears in action. (Click here to check the live video feed)
Since spring is mating season at the China Conservation and Research Center for the Giant Panda in Ya'an, Sichuan province, 20 video cameras have been installed at the center by iPanda.com to offer a continuous view of the pandas' lives.
Those disappointed by the live feed can turn to panda-mating video clips on the site. One clip shows an encounter between a 16-year-old panda, Wu Gang, and 9-year-old Cui Cui, who were introduced by keepers of the center's Bifengxia base in Ya'an on Sunday.
Watch the video clip below about an encounter between Wu Gang and Cui Cui.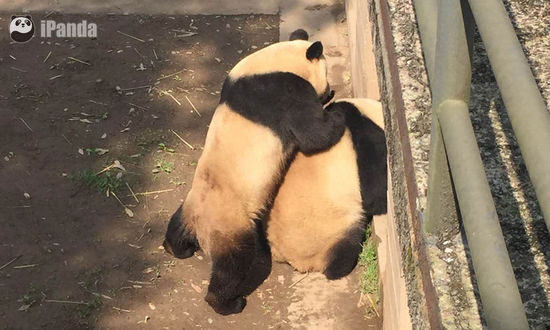 A screen capture of a video shows an encounter between Wu Gang and Cui Cui. [Photo/iPanda.com]
Mating in captivity had long been a challenge for the pandas, followed by equally difficult pregnancies and challenges in the care of newborn cubs, researchers said. That has changed over the past 20 years, as researchers have learned more about the bears.
In the early years, "only 20 percent of the pandas could have sex naturally. To motivate male pandas' sex drive, researchers let them watch videos of other pandas mating" and fed them an aphrodisiac, said Zhang Heming, the panda center's chief.
Now, between 70 and 80 percent of the pandas can have sex naturally, he said.
A 2015 panda census by the State Forestry Administration tallied 422 captive pandas worldwide. Most are in the Ya'an research center and the Chengdu Research Base of Giant Panda Breeding.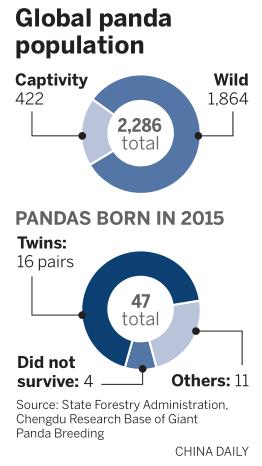 Launched by China Network Television in 2013, iPanda.com aired a live broadcast of two pairs of mating pandas for the first time in April last year.
During a live broadcast earlier this month, Luo Bo, deputy chief of the animal management department of the Ya'an base, said Cui Cui was most likely pregnant.
Nearly all pandas mate only in spring, so zoos around the world are eagerly looking for assistance and preparing for the birth of cubs.
"Many zoos outside the Chinese mainland lack experience in the field and ask Chinese researchers to help them. This year, researchers from the (Ya'an research center) have visited Belgium and Taipei. Next they will go to Singapore, Thailand, Britain and Australia," said Tang Chunxiang, a senior researcher.
Even before iPanda.com was launched, the center was posting video clips. It started on June 24, 2013, as a test and attracted nearly 15,000 viewers in one month.
"Now each year, tens of millions of people visit the website, where they can have a 24-hour view of pandas' lives," Zhang said.