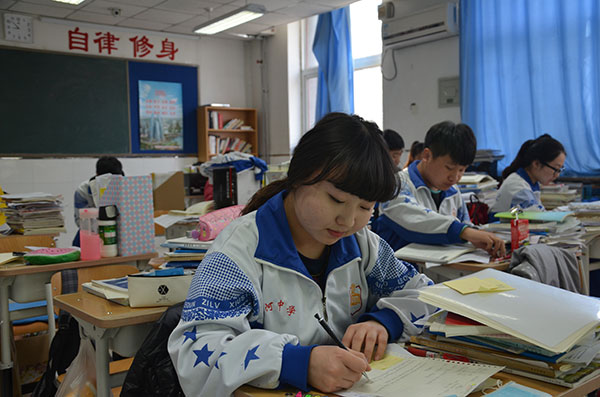 Uygur student Dilara, from Hami, the Xinjiang Uygur autonomous region, studies at Luhe High School in Beijing's Tongzhou district. CHINA DAILY
Thousands of kilometers from home, in a strange city with a sometimes loose grasp of the language, teenagers from the Xinjiang Uygur autonomous region find themselves homesick, lonely and struggling to communicate.
But their dreams of a better education help them to persevere through the tough beginnings at one of the pilot schools in Beijing that have been recruiting Xinjiang students since 2000, when the central government started a program to help improve their education.
"Although the school is 3,000 kilometers away from home, it's still worth studying here," said Dilara, a senior from Hami, who is now studying at Luhe High School in eastern Beijing's Tongzhou district.
Students apply for the program and those who pass entrance exams organized by local governments are admitted to 93 inland city schools in Beijing, Shanghai and 43 other cities. So far, 80,200 students have participated. They study for free and receive a 650 yuan ($100) monthly living allowance.
"It's really attractive to me that the included schools are located in developed cities like Beijing and Shanghai," said Dilara, a Uygur student who had lived with her grandmother since she was a child.
"We don't have to pay any tuition and even get monthly subsidy. That's quite a relief for me and my grandma."
Arriving in Beijing at the age of 14, Dilara initially was bothered by homesickness and the challenge of communicating." I felt ashamed to communicate with teachers here because of my poor Mandarin," she said.
The school provides one year of training to help the Xinjiang students improve their language skills and offers psychological advice before they start their high school curriculum.
Early on, Dilara turned to Ayturan, a teacher from Ili who joined the students at the Beijing school, but she soon adapted and made friends with local students.
Sometimes she and other students from Xinjiang are invited home by local students, especially during winter vacations, when most of them would rather stay at school than take the 30-hour train ride back home.
Dilara recalled a recent visit to the home of her classmate Cui Xi.
"His mother cooked mutton chops for us, which is exactly what I missed so much, and his father encouraged me, just like my own father does," she recalled.
Cui Xi said daily life became more fun after the Xinjiang students joined the class.
"We celebrate Eid al-Adha, the traditional festival, usually celebrated by the Uygur in September, a fancy day filled with the aroma of roast lamb and the ecstasy of carnival," Cui said.
Now an 18-year-old senior, Dilara plans to further her education at Beijing International Studies University. "I always hoped to study tourism and promote my hometown to the world one day," she said.
Li Tongshu, director of students at Luhe, said the success of the graduates over the past 16 years gives her confidence that Dilara's dream-and the dreams of the other students-will come true.
"Nearly 1,400 Xinjiang graduates have been admitted by universities at home and abroad, and among those, 800 have devoted themselves to further building their hometowns," Li proudly said.
As significant as the results are, schoolmaster Xu Hua recalled the unexpected difficulties the school encountered in the beginning.
"We only had four months to solve the accommodation problems," Xu said. "But we managed to set up a halal canteen and enlarged the dormitory in time."
In recent years, Abudumanap, a teacher in Ili, has seen the program gain in popularity among the Xinjiang students." The entrance exam has grown competitive, arousing the students' zeal to learn Mandarin," Abudumanap said.
"Herders are willing to send their children away for an education, because they realize that would change the kids' future or even the family's."