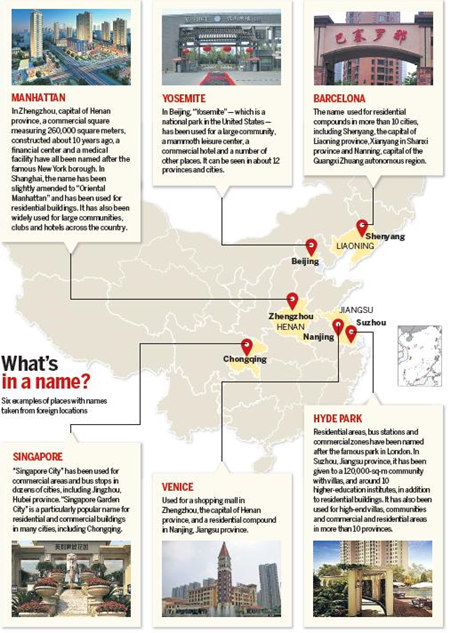 PHOTOS PROVIDED TO CHINA DAILY; GRAPHIC BY CHINA DAILY
The Chinese government is moving to ban "exotic" names given to places, buildings and complexes to protect and preserve traditional culture. In recent years, real estate developers and some local governments have chosen names based on locations and buildings overseas, such as "Manhattan" and "Venice". The use has proliferated, causing as much anger as amusement and prompting heated debate on public and online forums.
Critics say the foreign names undermine long-standing cultural traditions and don't reflect Chinese core values. The authorities are now cracking down and have ordered that all foreign names must be eradicated by June next year.
Name-dropping is the order of the day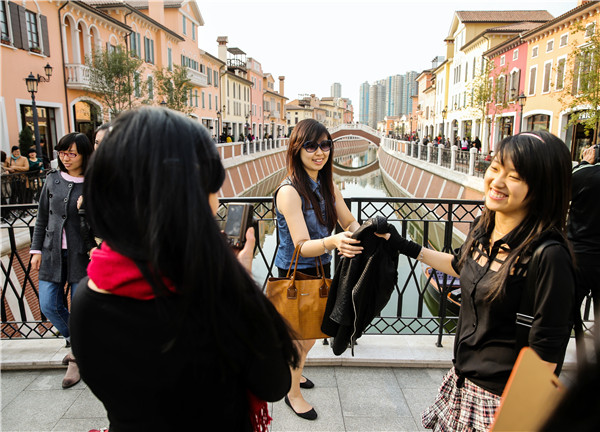 People take photos in the Florentia Village outlet in Tianjin. The shopping center was built to reflect the style of the Renaissance. PROVIDED TO CHINA DAILY
Would you like to start your day with coffee and croissants in Provence, before heading to Venice to grab a pizza for lunch and following it up with a trip to Manhattan to take in a show?
If the answer is "yes", you can achieve all three ambitions by taking an "international tour" of Zhengzhou, the capital of Central China's Henan province.
"Provence" and "Venice" are modern residential buildings in the city, while "Manhattan" is a commercial square, which includes a financial center and a medical facility, built about 10 years ago and named after the famous New York borough.
However, you will have to act quickly if you want to take a photo of any of these foreign names in situ because the authorities have decided to ban the use of place names inspired by locations overseas, and have ordered the removal of the imported monikers by the end of June next year.
To curb the growing use of foreign names, Li Liguo, the minister for civil affairs, has ordered governments at all levels to standardize place names and protect long-standing geographical or historical names.
Reflecting history
On March 22, Li told a meeting to regulate place names that "over-the-top, West-worshiping, weird and duplicative" names must be eradicated from all locations, including residential compounds and large buildings, and should be replaced with names that better reflect China's culture, history and traditions.
"Some cities have multiple 'Manhattan' or 'Venice' roads. It's not only an inconvenience for travelers, but also erodes the sense of home," Li said, adding that to preserve traditional Chinese culture, the protection of age-old place names must be stepped up and nonregulation names must be removed.
Certain types of names will be targeted, he added, including those that damage sovereignty and national dignity, those at odds with core socialist values and conventional morality, and names that prompt widespread public complaints.
Li made his comments at a meeting to review the State Council's ongoing survey of names, which was launched in 2014 and is expected to be completed in 2018.
The four-year survey is the second national-level investigation into place names since the founding of the People's Republic of China in 1949, and follows a study conducted from 1979 to 1986.
According to a 2014 survey conducted by the Ministry of Civil Affairs, the last 30 years have seen changes to the names of more than 60,000 townships across the country. Statistics provided by the Ministry of Civil Affairs in 2013 show that 40 percent of the names of Beijing's hutong, the network of alleys that once crisscrossed the city, were changed between 1980 and 2003.
The meeting triggered a nationwide discussion about whether the government should impose a ban on naming places after famous locations overseas, and about the significance of protecting names with historical meanings.
The most heated debate centered around the practice of naming residential compounds after venues in developed countries, which has been widely adopted by real estate developers for commercial purposes.
Read more about the trend of imitating Western-style architecture and the pursuit of managed landscapes for living environments that accompanied China's urbanization boom.