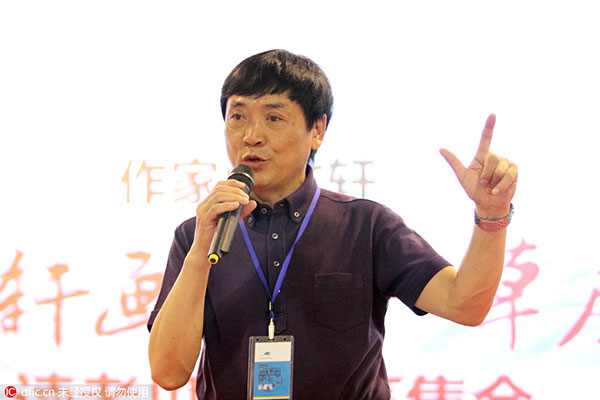 Chinese children's fiction writer Cao Wenxuan delivers a speech at a book fair in Wuhan, central China's Hubei province, May 24, 2015. [Photo/IC]
BOLOGNA, Italy - Chinese children's fiction writer Cao Wenxuan on Monday won the Hans Christian Andersen Prize 2016 at the Bologna Children's Book Fair in Italy, the first Chinese writer to ever win and be shortlisted in the highest international recognition given to an author and an illustrator of children's books.
"The unanimous choice of the jury, Cao writes beautifully about the complex lives of children facing great challenges," said Patricia Aldana, the Hans Christian Andersen Jury President 2016, announcing the winner of the prize's author award.
She cited Cao's Bronze and Sunflower, a novel set during the time of the Cultural Revolution in a rural Chinese village, and Dingding Dangdang series about two brothers with Down syndrome who separately flee their village and then search for each other, as "deeply humanistic" books, because they acknowledge that life can often be tragic also for children, who nonetheless can be redeemed by the human qualities and kindness they sometimes find when they are most in need.
"Cao is a great example of how writing wonderful prose and telling stories about brave children facing tremendous difficulties and challenges can attract a very wide and committed child readership as well as helping to shape a literary tradition in China that honors the realities of children's worlds," Aldana highlighted.
Born in 1954 in a small rural village in Yancheng, Jiangsu province, Cao spent his childhood in poverty. He nonetheless was able to study at Peking University and is now a professor of Chinese literature and children's literature.
When people achieve something, it is because they have a background, Cao told Xinhua soon after his award's announcement.
"And my background is China," he highlighted.
"All of my stories are set in China, all of them are Chinese stories, but at the same time they are the stories of humankind," he said.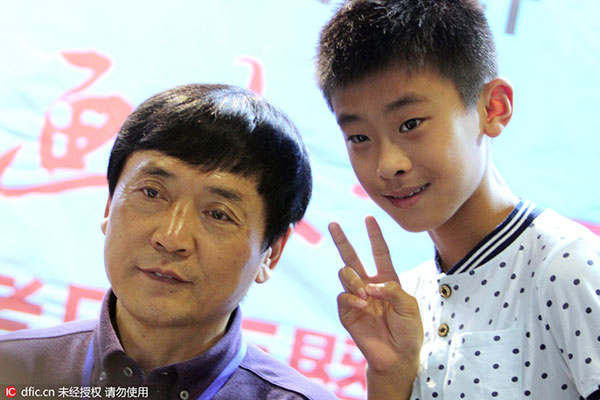 Chinese children's fiction writer Cao Wenxuan poses for a picture with a boy at a book fair in Wuhan, central China's Hubei province, May 24, 2015. [Photo/IC]
Recently Cao's books have been making their way into the world and have found enthusiastic readers in Britain, France, Germany and Italy.
Cao wished that the world will increasingly look at China's literature with a more fair and open attitude, and that Chinese authors will make an effort to use a language that is suitable for translation, a communication style that can be understood by the entire world.
His understanding of children's literature is "creating a good human nature basis for the sake of humankind," Cao told Xinhua.
Literature has a fundamental artistic value, he stressed, and Monday's prize has confirmed that Chinese children's literature has a high place in the world.
"There will certainly be other Chinese authors who will win the Hans Christian Andersen Prize in the future," he concluded.
German illustrator Sonja Danowski has drawn the pictures for Cao's "Grass Hut", a novel which mirrors the memorable years of a boy's primary school life amid deeply moving and profoundly touching events.
"I met Cao two years ago here in Bologna, he saw my works and liked the style, because he likes a realistic interpretation of stories, and so he thought that my style could be suitable for his books. He suggested me as his illustrator and I felt really honored," she told Xinhua.
"When the editor sent me the English translation of Grass Hut, I read it and I immediately knew that I wanted to draw the pictures, because during reading I already had them in my head ... It was very inspiring, I love the Chinese mood, it is amazing how those written words can stimulate the imagination," she added.
Danowski defined Cao as "a master in describing characters and the nature, plans and animals surrounding them."
She observed that there is a "special sensitivity about the human spirit" in Chinese stories which she said are deeply "human and full of respect."
What made her feel especially "surprised and honored" in collaborating with Cao was "the total freedom that he let me to do my own."
"He just told me 'I rely on you, make what you want,' he had faith in me and this is the best condition for an illustrator, because only with the freedom you can really work on your own feelings, and then bring them to the book," she said.