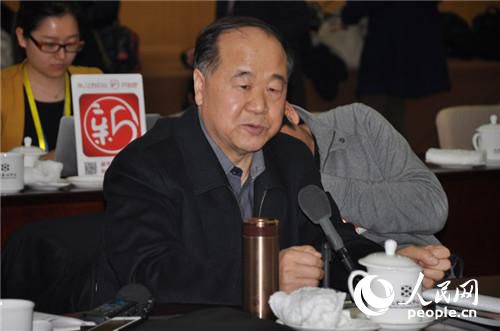 Mo Yan gives a speech at the annual session of the CPPCC. [Photo/people.cn]
Though his pen name "Mo Yan" means "don't speak", the Nobel laureate had plenty to say about traditional culture and preschool education at the annual session of the Chinese People's Political Consultative Conference.
The author said he grew up watching the form of folk opera known as maoqiang in his hometown of Gaomi, Shandong province, and featured the style in his 2001 work Sandalwood Death.
"It was so popular in the 1950s and 1960s that when a troupe came to my village, all the people would stop everything and rush to secure a seat. If a famous performer was due, the show would sell out many days in advance."
Maoqiang was listed as a national intangible cultural heritage a few years ago, and since then the local government has spent large amounts of money to preserve it. Fifty young performers were chosen to receive training, and Mo has helped by writing scripts.
"Frankly speaking, the costumes, sets and performers have all been greatly improved, but audiences are becoming smaller and smaller," he said.
Maoqiang is just one of hundreds of styles of folk opera that are under threat. According to statistics from the Ministry of Culture, there were 394 different types at the end of the last century, but by 2004 the number had dropped to 260.
By the end of 2014, 162 styles had been given national intangible cultural heritage status, but only a few of them are still performed regularly.
"If there are no regular shows and audiences, what is the point of spending money and effort to preserve them?" Mo said.
"People have many more choices of entertainment. Older people like me still want to see performances of the classic repertoires, but they are obviously not the young generation's cup of tea. The traditional arts have to keep up with the times and the changing society, and we artists must create new stuff to attract audiences."
He admitted, however, that this is easier said than done.
"Every novelist wants to write A Dream of Red Mansions and every musician dreams of being Beethoven. But whether the dream can come true depends on many things."
He agrees with political adviser Yu Zhengsheng, who has urged those involved in the arts to "tell Chinese stories".
"No matter whether you tell stories with a pen like a novelist or on stage like a dramatist, we all have to plunge in and think about life and take the pulse of the times," said Mo.
The writer, a CPPCC member, has submitted a proposal to the conference's National Committee about the provision of preschool education in rural areas.
"I hope the government will make preschool education free," he added.
He said he has returned to his hometown more often than before in the last few years, and has found that preschool education services in rural areas have developed rapidly.
"I can remember when only people in towns and cities sent their children to kindergarten, but today more and more kindergartens are being built in the countryside."
However, he says there are problems such as shabby buildings and worn-out equipment, unqualified teachers and an approach to nursing and teaching that he believes does not suit the psychology of children.
Mo Yan, the pseudonym of Guan Moye, 60, was the first Chinese citizen to win the Nobel Prize in literature in 2012.
chenjie@chinadaily.com.cn