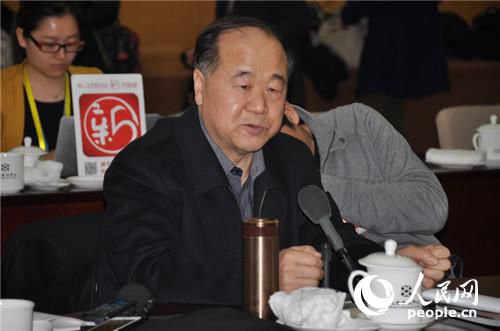 Mo Yan gives a speech at the annual session of the CPPCC. [Photo/people.cn]
At the annual session of the National Committee of the Chinese People's Political Consultative Conference, or CPPCC, held on March 4, Mo Yan presented his views on the protection and innovation of the local folk opera Maoqiang, which originated in his beloved hometown, Gaomi, in Shandong province.
"Maoqiang opera from Gaomi used to be popular in Weifang, Shandong province. When the troupe went on a performance tour, audiences would crowd at the theater at noon even if the show would be on late at night. However, such a scene has become a rarity left in memory." The first Chinese Nobel Prize Laureate worried about the inheritance and development of Chinese traditional art forms.
Maoqiang opera is a folk opera style developed from local folk songs and gained popularity in the 1860s. It originated in the Jiaozhou area of the Jiaodong Peninsula in eastern China. In 2006, it was listed as a national intangible cultural heritage. Mo Yan's novel, Sandalwood Death, is written in the style of Maoqiang opera and its English translation was published in 2013.