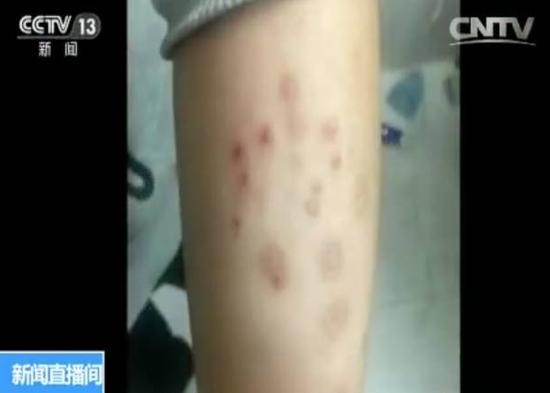 A CCTV grab shows the arm of a sick student.
Administrator defends planning process, says proper steps were taken before move
The principal of Changzhou Foreign Languages School in Jiangsu province, where hundreds of students fell ill, dismissed reports claiming the school was responsible.
The school was built next to a site where former factories reportedly dumped toxic chemicals.
So far, about 500 students have reportedly been diagnosed with illnesses, including cancer, linked to toxic groundwater and soil on land adjacent to the school.
The brownfield site had previously housed three chemical plants that were demolished before the school was built.
China Central Television reported on Sunday that many students suffered adverse reactions and came down with diseases starting in December after the new campus opened in September. Some reportedly had lymphoma, leukemia and other blood abnormalities.
But Cao Hui, the principal, denied that the school is connected to the students' illnesses and claims indoor air quality, soil and groundwater were all inspected by professional organizations and met national standards.
"The student with lymphoma showed symptoms in late July, before we moved to the new campus," Cao said.
"Another student that China Central Television says was diagnosed with leukemia has not been found at the school."
Cao said stringent inspections were carried out before students relocated.
"We asked the Changzhou Environment Science Institute to inspect indoor air quality before the new campus was put into use," Cao said. "The result showed that the quality met national standards. The drinking water at the school was also checked by the local health and epidemic-prevention departments.
"We called the local government and educational bureau immediately after noticing a strange smell in the air in December.
"We have formed an emergency team to guarantee the health of our students and teachers."
The Ministry of Environmental Protection and the Jiangsu provincial government have set up a joint investigation team to look into health issues at the school.
The CCTV report speculated that high concentrations of toxic chemicals may be the reason for the spate of illnesses.
The chemicals reportedly found in groundwater and soil at the site include chlorobenzene, carbon tetrachloride, and carbofuran, which are known for their serious health effects, including cancer, as well as for their environmental impacts.
The school has around 2,400 students on a 153-acre campus.
According to the CCTV report, an environmental evaluation conducted before construction began suggested pollution was serious and advised that schools, housing or other public facilities should not be constructed on the site.