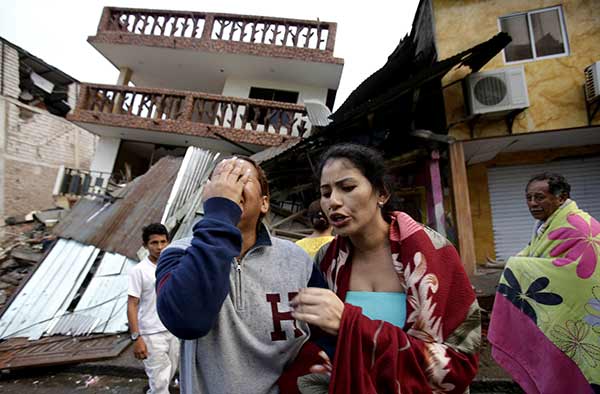 A woman cries on Sunday in front of a destroyed home in Pedernales, Ecuador. Saturday's magnitude-7.8 quake killed at least 272 and injured more than 2,000.[Photo/Agencies]
In Ecuador and in China's neighbors Japan, Myanmar and Afghanistan, a series of strong quakes have recently caused casualties and damage. But are they a bad omen for China?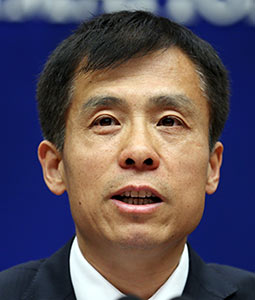 Pan Huaiwen, director of the China Earthquake Networks Center. [Photo/China Daily]
Pan Huaiwen, director of the China Earthquake Networks Center, said he doesn't believe the quakes indicate that China faces a strong earthquake soon as well. He made the remark on Monday in a news conference organized by the State Council Information Office.
Since April 10, when a magnitude-7.1 quake hit Afghanistan, three strong earthquakes above magnitude-7 have hit China's neighbors, including the magnitude-7.2 quake that struck Myanmar on April 13 and the magnitude-7.3 quake in Japan on Saturday.
In addition, a quake of magnitude-6.1 also hit Tonga on Sunday.
The Chinese have been particularly sensitive about earthquakes since a mega-quake in 1976 killed about 240,000 people and injured 160,000 in Tangshan, Hebei province.
Pan said serial quakes have occurred 37 times since 1900, and only three times did China have quakes above magnitude-7 in the following three months.
"It doesn't demonstrate that an extremely active seismic period has come," said Pan. "And less than 10 percent of those situations were followed by a massive earthquake in China. So statistically, the probability of China having a strong earthquake is not connected with recent frequent quakes."
He added, however, that if the frequency of major earthquakes worldwide so far this year continues, the average annual number of quakes since 1900 above magnitude-7, which is 18, could be surpassed.
"The possibility of an earthquake depends on the situation of the tectonic plate on which China sits, but motions of the crustal structure around China could affect the strength of pressure on the Chinese mainland and have an impact on the country's earthquake situation," said Jiang Haikun, senior researcher at the China Earthquake Networks Center.
So far this year, China has had five earthquakes above magnitude-5, including a magnitude-6.7 quake that rocked Taiwan on Feb 6, killing more than 100 people.
According to the quake networks center, the Chinese mainland reports an average of 20 earthquakes each year above magnitude-5.
Since 2004, when a magnitude-8.7 quake hit Sumatra in Indonesia, Jiang said, the world has been in a relatively active seismic period, compared with a quiet period between 1964 and 2004.
"Earthquake prediction is still a global scientific challenge, but our center will keep a close eye on the crustal motion in China, especially the western regions, where more than 90 percent of China's massive earthquake have occurred," said Jiang. "There is a lot of work to do to reduce casualties from earthquakes, including building stronger infrastructures."

Yang Liu/China Daily