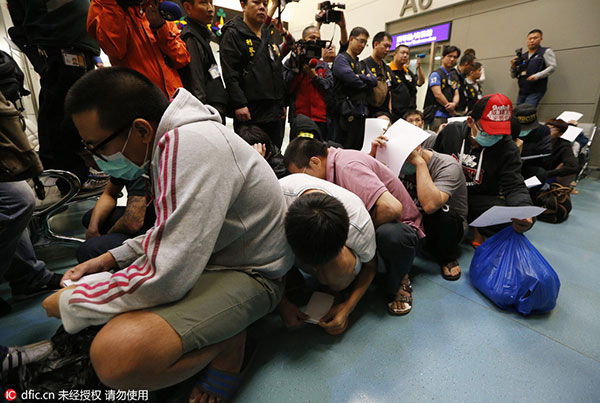 20 fraud suspects from Taiwan arrive in Taoyuan airport in Taiwan on Friday, April 15, 2016 after being deported from Malaysia. [Photo/IC]
BEIJING -- A Chinese mainland spokesman on Saturday urged Taiwan to give fraud suspects "the punishment they deserve," stressing that the release of them will only make fraud more rampant and harm cross-Straits law enforcement cooperation.
Taiwan police earlier on Saturday released 20 fraud suspects who were deported from Malaysia Friday evening, citing a lack of evidence. They were among 52 people from Taiwan arrested in Malaysia for suspected telecommunication fraud.
"By releasing the suspects, Taiwan authorities disregarded many victims' interests and harmed them a second time. It also harmed the two sides' cooperation in jointly cracking down on crimes," said An Fengshan, the spokesman with the State Council Taiwan Affairs Office.
Taiwan phone scammers come clean
BEIJING - Phone scams are nothing new, and yet the people behind this faceless crime continue to swindle billions of yuan from hapless victims every year.
Boiler rooms run by scammers from Taiwan were responsible for over 50 percent of all telecom fraud in China's mainland. Nearly all major cases with reported losses in excess of 10 million yuan ($1.54 million) were organized by scammers from Taiwan, according to the Ministry of Public Security (MPS).
In the past seven days, 77 alleged fraud syndicate members, including 45 from Taiwan, were repatriated to China's mainland from Africa.
In interviews with Xinhua, some of the suspects from Taiwan came clean about this illicit practice.