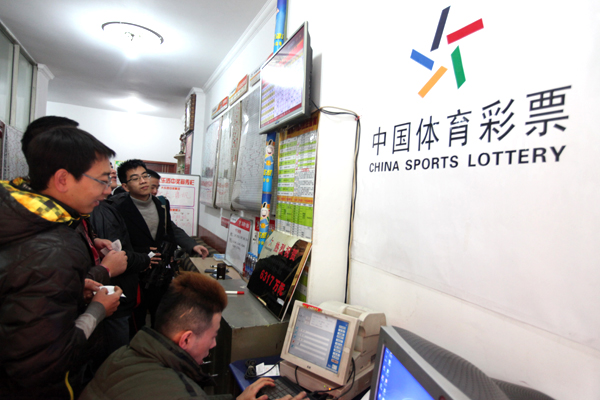 People buy lotteries at a sports lottery shop in Baoji city, Shaanxi province, on Nov 21.[Photo/VCG]
Want to try your luck online? It seems that lady luck could soon be smiling as the government mulls lifting the ban on online lottery sales, said the business newspaper The Economic Observer quoting a source.
According to the report, officials plan to launch new pilot programs this year to restart the sale of online lottery and held a seminar in January to discuss regulations. The paper quoted a source as saying authorities have a supportive attitude toward restarting online lottery sales.
Companies will not have to get approvals from authorities, the source said, but they must come through the qualifications checks from lottery issuers - the National Welfare Lottery Center and the National Sports Lottery Center.
China has two State-run lotteries: Welfare lottery from the Ministry of Civil Affairs, and sports lottery from the General Administration of Sport. The two authorities and the Ministry of Finance approve lottery sales across the country.
In April last year, eight central government agencies banned online lottery sales, citing risks to lottery players' interests.
The Ministry of Finance pointed to "rampant irregularities" in online lottery sales and said that lottery sales organizations had also entrusted internet companies with sales services without official authorization.
Lottery sales have been suspended on large platforms such as Sina.com, Taobao.com, 163.com and the lottery sales website 500.com that had been approved by the Ministry of Finance to sell lotteries online in a pilot program.
The Ministry of Finance previously approved two companies, 500.com and China Sports Lottery Operation Co, to engage in online lottery sales under a pilot program.
The country's online lottery sales surged before the 2015 April ban. Online lottery sales reached 85 billion yuan ($13.1 billion) in 2014, a 102-percent increase from 2013. The figure was only 3.8 billion yuan in 2009.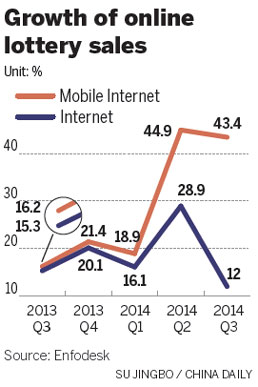 But the country's auditors found many problems in the booming lottery industry in a largest-ever national audit covering 18 provinces and municipalities.
Hundreds of websites had popped up to sell tickets online in recent years, but most of them operated in a grey area because they lacked approval to operate from the Ministry of Finance.
Some companies sold fraudulent lottery tickets, and some cheated buyers through not actually buying lottery tickets.
An industry source said that the pilot programs needed to have breakthroughs in the sales system, distribution channels, terminals, products and user experiences.
Internet companies that have huge number of online users and advantages in big data technologies could be selected into the pilot programs, the source said.
Chinese internet giants are also expected to re-activate the online lottery sales business. In March, Alibaba Group Holding Ltd took a controlling stake in Hong Kong-listed lottery operator AGTech Holdings Ltd.
No matter how many companies will be approved this year to sell lotteries online, they are only in pilot programs, the source added, and authorities should announce regulations on online lottery sales as soon as possible.