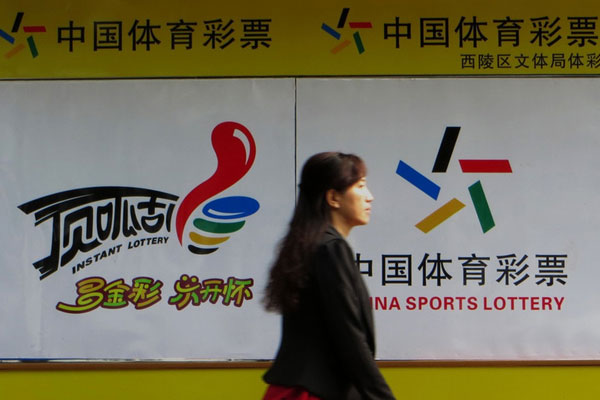 A woman passes by a billboard of China Sports Lottery in Yichang, Hubei province, Nov 5, 2013. [Photo/icpress]
BEIJING - China's online sports lottery vendor 500.com plans to add more social networking features to its lottery sales platform ahead of the FIFA World Cup and expects more sales from mobile devices, the company's chairman said in an interview with Xinhua.
Vincent Law, chairman of the Shenzhen-based 500.com, said the company expects to grow its user base during the soccer tournament in Brazil. However, he said the company had no specific sales target for the sport event.
"Soccer fans might not use our site to buy lottery tickets, but they can use our platform to network with other fans, and discuss matches or a particular player," Law said.
500.com has also sold more than 3 billion yuan ($488 million) worth of sports lottery to more than 20 million registered users last year and is paying more attention to the mobile front.
The company signed an agreement in January with China Mobile E-commerce, the payment subsidiary of China Mobile, the country's largest mobile operator by subscribers.
The deal opens up a new payment channel for 500.com and could potentially boost its sport lottery sales on mobile devices. The payment service has a monthly active user of 31 million and annual transaction hit 130 billion yuan in 2013.
Prior to this deal, 500.com also accepts payment through Alipay, the payment service offered by Chinese e-commerce conglomerate Alibaba.
The company has both Apple and Android apps and has been working to incorporate its lottery sales service on other popular apps with broad user base, such as Alipay.
500.com is among the first batch of Chinese online lottery vendors established in the early 2000s. It went public at the New York Stock Exchange in November 2013. Its share price has more than doubled three months after its debut and hit as much as $51.37 per share in early January.
This strong performance shows investor confidence in the company and the potential of China's online lottery sector. Chinese regulators have also become more clear over support for online lottery sales.