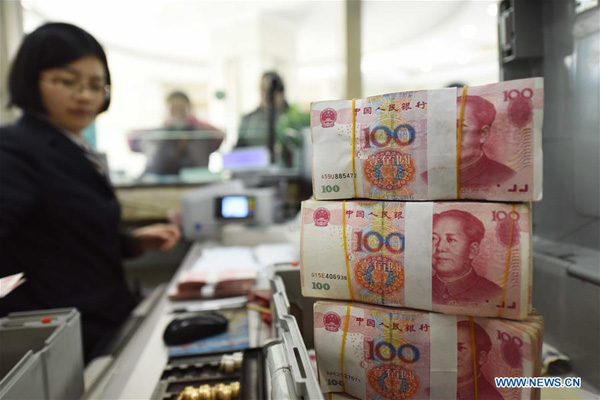 A bank staff member checks RMB banknotes at a bank in Lianyungang, East China's Jiangsu province, Jan. 7, 2016. [Photo/Xinhua]
WASHINGTON - The Chinese currency renminbi (RMB) has remained "basically stable" against a basket of currencies and there is no basis for persistent RMB depreciation, Chinese central bank governor said on Saturday.
"Recent movements in the RMB exchange rate reflected well the managed floating exchange rate regime based on market supply and demand and with reference to a currency basket," Zhou Xiaochuan, governor of the People's Bank of China, said in a statement for the meeting of the International Monetary and Financial Committee (IMFC), the IMF policy setting committee, on the sidelines of the spring meetings of the IMF and the World Bank.
Citing China's solid fundamentals of a large current account surplus, a low-level inflation rate, relatively strong growth as well as strong competitiveness, Zhou reiterated that "there is no basis for persistent RMB depreciation."
"China will continue to pursue market-based exchange rate reform, and maintain the RMB exchange rate basically stable at a reasonable and equilibrium level," he said.
"They have done a better job of communicating, trying to manage the exchange rate with reference to a basket, that seemed to calm the market to some extent," David Dollar, a senior fellow at the Brookings Institution, said of Chinese central bank's policy communication on Thursday at a panel discussion on China and the global economy.
"The reserve losses were much lower in March than it had been in the previous month," Dollar said, referring to China's foreign exchange reserves.
Christine Lagarde, Managing Director of the IMF, on Thursday also praised the improvement of China's policy communication regarding the exchange rate policy.
"We have been delighted to see the communication efforts undertaken by policymakers, particularly Governor Zhou," Lagarde said.
"I think when it comes, in particular, to the exchange rate regime, it does clarify the situation for the better, because nobody likes uncertainties, markets in particular."
In terms of domestic economy, Zhou said economic growth in China "has remained firm" since the start of this year, with key indicators showing signs of improvement.
"GDP (gross domestic product) grew by 6.7 percent in the first quarter year-on-year, with retail sales of consumer goods posting a stable year-on-year growth of 10.7 percent," he said, adding that China will continue to make a "notable contribution" to global growth.
Zhou said China will maintain the "continuity and consistency" of macroeconomic policies, and "strengthen structural reforms," particularly on the supply side, to "strike a better balance" among economic growth, structural adjustment, and risk prevention.