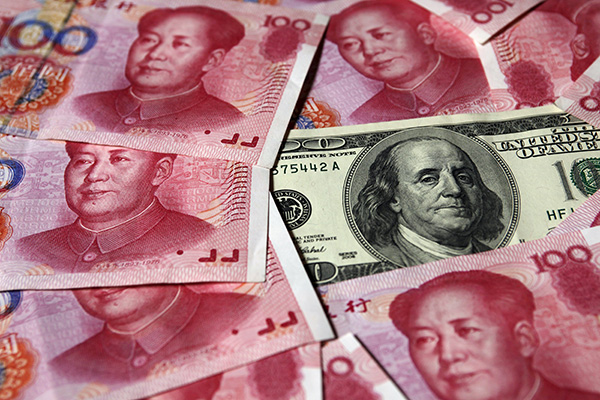 A $100 banknote is placed next to 100 yuan banknotes in this October 16, 2010 file illustration picture taken in Beijing. [Photo/Agencies]
BEIJING - The Chinese currency renminbi, or the yuan, has started to return to its normal and reasonable level after volatility, and the trend will continue, central bank governor said Saturday.
Zhou Xiaochuan made the remarks at a press conference on the sidelines of the country's ongoing annual parliamentary session.
"There is no need at all to rush to buy US dollars," he added.
The yuan has been heading south since the government revamped the foreign exchange mechanism last year, and concerns about capital outflows have been on the rise.
The Chinese authorities have repeated that there is no basis for continued weakness of the yuan and China will not seek to boost exports through competitive devaluation.
The yuan has shown signs of stabilizing since February. The official reference rate strengthened 222 basis points to 6.4905 against the US dollar Friday.
Zhou attributed the previous depreciation to concerns on a slowing Chinese economy and market jitters caused by easing policies from Europe and Japan.
"Despite market fluctuations, investors will gradually become rational and make decisions based on China's economic potential and balance of foreign exchange," Zhou said.