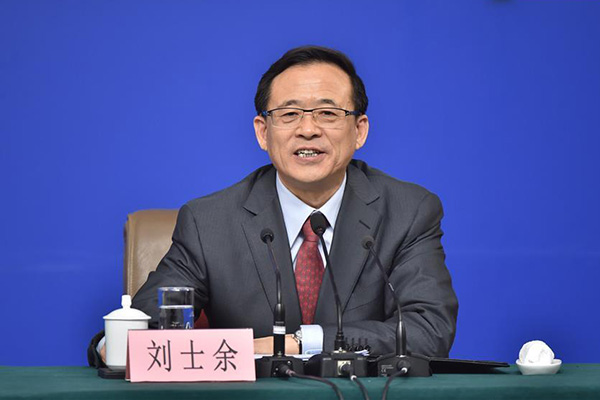 Chairman of the China Securities Regulatory Commission Liu Shiyu answers questions at a press conference on the sidelines of the fourth session of the 12th National People's Congress in Beijing, capital of China, March 12, 2016. [Photo/Xinhua]
China must adopt the registration-based initial public offering eventually, the chief of the securities regulator said in Beijing on Saturday.
Liu Shiyu, chairman of the China Securities Regulatory Commission, acknowledged the proposed reform of the existing floats system will be a long process. The new system will be launched only when market conditions and the legal environment are appropriate, he assured.
Addressing his first media conference since taking office in February, Liu said the IPO reform is a mission that China must accomplish. It should be carried out to uphold the principle that investors' interests must be protected, he said.
His remarks assume significance against the background of last week's market speculation that the proposed new IPO system may be put on hold.
The planned shift to the registration-based IPO system from the approval-based practice has been seen as one of the most important reforms that could help China to develop a mature and market-driven stock market.
The proposed new system is expected to allow market forces to have a greater say in the timing of companies' fundraising from the stock market.
But fears emerged that the reform could result in short-term pain, like aggravation of financial frauds and a huge supply of new shares, which could weigh the already volatile and fragile market down.
Liu said there is no condition that China must adopt the circuit-breaker mechanism in the coming few years. The newly introduced mechanism was in use for all but four days before being scrapped in January, after it increased market volatility and deepened liquidity shortage.
Liu acknowledged that the government-backed investment fund played a positive role by stepping in during the stock-market rout of last summer. He said it is still "too early" for the national fund to exit the market.
Separately, Shang Fulin, chairman of the China Banking Regulatory Commission, said the risks in the banking system are manageable in spite of the rising non-performing loans.
"Some ratings agencies have lowered the (outlook for the) credit ratings of the Chinese government and financial institutions. I would say it's a wrong judgment of the Chinese financial sector," Shang told reporters in Beijing.