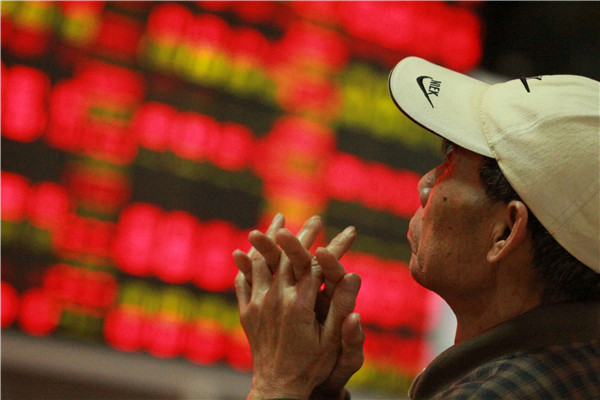 An investor checks stock prices at a securities brokerage in Haikou, Hainan province, on Friday.SHI YAN/CHINA DAILY
Central bank governor says China's monetary policy is prudent
Chinese stocks stabilized on Friday after Thursday's turmoil as the securities regulator quashed market rumors and the central bank governor said policymakers have room for further easing to stimulate economic growth.
The benchmark Shanghai Composite Index rose by 0.95 percent to close at 2,767.21 points on Friday. The Shenzhen Component Index increased by 0.24 percent, while the startup index ChiNext dropped by 1.09 percent.
"It takes a period of time for the China Securities Regulatory Commission to set up rules for a registration-based IPO system after the country's top legislature's authorization, and the system based on examination and approval for new share issues will not change before the registration-based IPO system is launched," said Deng Ge, a spokesman for the CSRC, on Friday.
The statement was made after China's stock market tumbled by more than 6 percent on Thursday amid rumors that a registration-based IPO system would be first applied to companies applying for ChiNext board, the Nasdaq-style market, from March 1.
The Standing Committee of the National People's Congress, the country's top legislature, authorized the State Council in December to adjust rules based on the Securities Law to allow stock listing to be changed from an approval-based system to a registration-based one, starting from March 1.
Also on Friday, central bank Governor Zhou Xiaochuan said in Shanghai that the country's monetary policy is prudent and relatively accommodative given the current situation of the Chinese and global economy, and China still has some monetary policy space and multiple policy instruments to shore up economic growth.
Liu Shiwei, a partner at Hong Kong-based Element Capital Investment Management Ltd, said Zhou showed strong confidence in China's new economy and believed Chinese stock market will benefit from it and has golden opportunities within 10 years.
"China has the largest consumer and service market in the world and huge advantages in developing a new economy, and I believe its economic transformation will be successful."
caixiao@chinadaily.com.cn