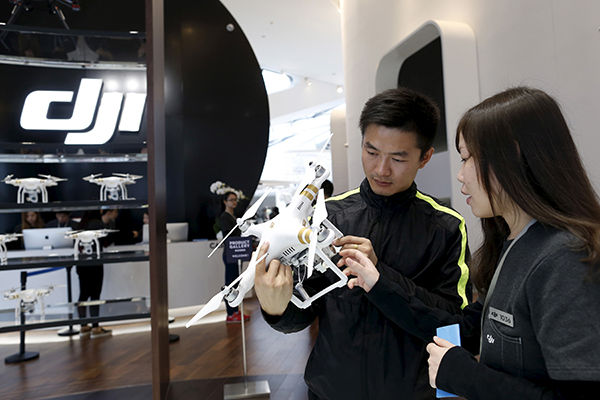 A customer (left) holds a DJI's Phantom 3 Standard drone at the firm's first flagship store in Shenzhen, Guangdong province. [Photo provided to China Daily]
For Chen Cheng, a 35-year-old photographer, a camera-loaded drone has been his new favorite toy since last year. He carries it along on his travels.
"I don't carry my single lens reflex camera anymore as my drone provides a fresh experience," he said.
Civilian unmanned aerial vehicles or UAVs, as drones are technically called, are fast proving to be essential accessories for top-end Chinese tourists.
Chen spent 9,000 yuan ($1,374) to buy Phantom 3, the drone for photography enthusiasts, from DJI-Innovation in October 2015. He has used the machine in various countries, including Spain, Finland, Japan, Germany and the US.
The drone can take pictures and videos from various positions, angles and heights that are unreachable for ordinary cameras.
Chen's reliance on Phantom 3 is near total. "I can't take some pictures without the drone."
For instance, he "flew", or manoeuvred, the drone up a castle in Prague, Czech Republic, to capture panoramic views. "I can't imagine I took so many pictures in the past without the drone."
Chen said the drone helps him take spectacular pictures and videos of sunsets from a height even on cloudy days.
It's fun most of the time but not always, especially when the drone's battery is low or the area does not support communication signals.
Low battery once resulted in Chen losing control of the drone. Luckily, he could retrieve it after a long search in the area as the drone had landed by itself, but some of its propellers broke, entailing expensive repairs, Chen said. "It could have got messy had it damaged others' property while landing automatically."
His ego also feeds on the drone, Chen said.
Onlookers abound when Chen flies his drone, frequently asked him questions. "Be it China or overseas, people are curious about the drone."
Drone aficionados are growing in number. Zhang Han, a 36-year old architect in Beijing, flew his drone in Phuket, Thailand, when he went to snorkel there. But his primary use for it is to measure building exteriors as part of his work.
Chen and Zhang show that UAVs, a branch of general aviation, are fast becoming popular in China, said Gao Yuanyang, director of the aviation industry research at Beihang University.
Gao said consumer drones like Phantom 3 mainly focus on entertainment and pastimes. But they cannot be used everywhere, especially near airports and other facilities, for security reasons, he said.
So, enthusiasts would do well to stay aware, particularly Chinese tourists keen to use drones in other countries, as violation of local rules could land them in trouble, he said.
It was reported last month that a Chinese traveler from Zhejiang province was briefly detained in Vietnam and his drone was confiscated.
"I try to understand local rules every time before I carry my drone on my travels," said Chen.
But sometimes such a precautionary approach proves unnecessary as some countries and regions do not yet have any drone-related regulations in place, Chen said. "I hope someone could tell me whether I can fly the drone in certain places."